Pedicure is considered to be one of the most essential requirements for any women for beautifying her feet in much attractive manner and for that purpose she make the use of pedicure. Many beauty salons provide the services of pedicure for the feet but the most eminent and perfect pedicure is the one that is carried at home. In this article we are discussing one of the most essential and simplest ways for serving the pedicure facilities yourself by just sitting at home.
Pedicure At Home Tips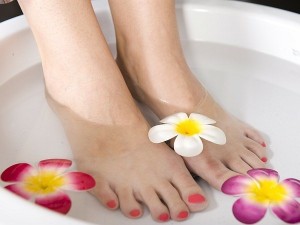 For a perfect pedicure you will are foremost required to gather up some ingredients that mostly includes a round bowl,  two smooth and clean towels, a body tree oil, a small brush, tiny cotton pads, nail polish, nail remover, a scrub for exfoliating, a foot cream, a soft toe separator and small wooden sticks. Now let us give a quick look at the process of pedicure.
Take a round bowl and add warm water in it and place the towel in square position under the bowl.
Now remove the old nail polish from the feet and starts cutting the nails in appropriate shape that you liked the most.
Now give the final shape to the nails by using nail clips.
Afterwards add some salt into the bowl that contains water and dip your feet into the water.
Now turn on some fresh music for few minuets and let your feet remain in water for 15 minutes and enjoy the music.
After sometime just take out the feet and dry the feet with soft towel.
After drying just clean the feet once with the help of cleaning brush.
In addition after it fully gets dried apply the moisturizer scrub on the feet and dip the feet again into the water for a while.
After few minutes take out the feet and dry them and apply feet lotion very gently and smoothly.
As soon as the feet gets dried just apply the beautiful nail polish on the feet. Make sure that you must apply one coating of the nail polish because the double coating would give a messy touch to the nails.
Well in the end at last your feet are all set with the perfect home made pedicure and now you can dazzle up your feet in front of others.  For getting more stunning feet you can apply this method once a week or it can also be carried out thrice a month.