The most dominating feature of the latest Pakistani Silver Jewellery (jewelry) Designs 2015 is that it is embellished with jeans and stones with price. These stones are installed in the designs of jewelry in different colors. Now the pure gold based jewelry is out of fashion and silver is in to replace gold. More matching stones are liked the women in silver. The stones used in silver and gold jewelry include diamond, topaz, sapphire, ruby jade etc. All these stones come in various colors that you can choose according to your dress. There are some jewelry sets that are manufactured in such a way that there is a changeable big stone in the centre of earring or necklace. You can have spare stones and change the stone according to the matching color scheme of your outfit.
There are variety of styles in necklaces and earrings made up of Silver. If you prefer heavy necklace, go for a compact necklace that look like a band covering the neck area. This style of necklace is usually worn by the brides with deep neckline of the heavy bridal outfit. Now bridals are also attract towards silver jewelry so it adds more charm to the overall bridal look. The brides who have long necks can wear this necklace make their beauty stand out. For a light and decent look, you can choose lock and chain set to wear on parties.
Pakistani Silver Jewellery Designs Price:
The price is depend on set that how much is the weight of this set as well as how much this design is complex.. So its not possible to cover price here for this price is depends on price of silver of purchasing day.Some latest designs are given in below gallery.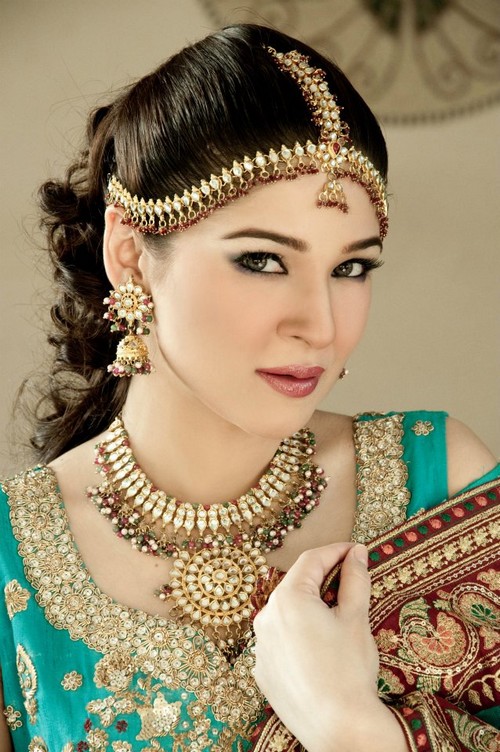 The long and smart earring of Silver are more in fashion rather than the jhumkis and balies. The long earrings make your face look smart and give you a sophisticated look. The small earring with an elongated gem stones hanging down is another option for casual wearing. Now you can buy your Pakistani Silver Jewellery Designs with Price according to the last fashion of 2015. This must makes you more attractive because jewelry is always a weak point of women, this is a thing that always attract their attention when best designs are available.