Mutton White Karahi by Chef Zakir in Urdu is a recipe that is easy to make and has a marvelous taste. There are so many people in the world that's love and like to eating foods and they not living without eating such kind of delicious dishes. There so many people in the world that's live only for foods and they don't see such other things around them rather than eating and a lot of people having hobby to eating. Mutton white Karahi is also too much popular among the people of Pakistan and as well as in the world because everyone want to eat these types of dishes. Mutton white karahi by Chef Zakir is too much popular among the people of Pakistan because he is the only chef that's made very crispy and wonderful recipes and due to this he is too much famous among the people of Pakistan. There are so many people especially women are asked about this recipe effectively and made this taste double. These types of recipes is made for some special occasions, parties and other places where family and friend are get together for making enjoy the life moments.
Ingredient for Mutton White Karahi by Chef Zakir:
Mutton 1 kg one Kilogram
Yogurt 500 gm
Onion 2 two
Ginger-garlic paste4 tbsp
Ginger piece that is greater than medium peace
Fresh coriander leaves 1 one bunches
Green chillies 6 six
Coriander 2 two table spoon that is crushed
Cumin seeds 2 tbsp that is crushed
Black pepper as required
Salt to taste according to choice
Oil 1 one cup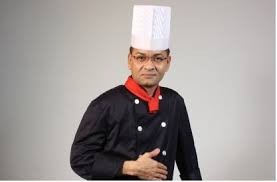 Method for cook Mutton White Karahi by Chef Zakir:
For this initially one heat up given oil in a pan and at that start time add ginger and garlic that is in paste form
After passing four or five minutes put add some onion and after this add given quantity of mutton.
Now process come when one put some green masala as well as yogurt with a quantity of water.
After thus cook it on low flame until the time come when oil go separate from gravy of mutton.
Then mix some garnish with coriander leaves and green chillies with ginger in sliced form.
Muhammad Zakir is known as one of the best chefs and he performs their responsibility on Pakistani television chef, host and hotelier and appears as food personality for cooking in different program in different television channels. He is expert on Pakistani cuisine and as well as international cuisine. Mutton white karahi is so simple dist which includes a lot of small things like yogurt, garlic, ginger, onion and other common things are use in this recipe which is easy available in markets. This thing made this recipe taste more and more delicious if it's serving with rice or naan and other things. Mutton white karahi by chef Zakir provide so simple methods to make this wonderful dish.