This year Ufone offer Internship Program for 2013 for all fresh graduates. All those students who are not working after their completion or during their studies are eligible for this program. This will start from Aapril 2013, Ufone always try to facilitate the nation in various different ways. They also give opportunity of jobs to all those interns who work hard and full fill the requirements of company. At end of internship they also organize a party in which they invite all interns and distribute prizes to encourage them. This year they offer this program in various fields just like RF KPI Analysis, Mobile Financial Services and the Mass Market Segment, Social Networking and Online Profile Management, and Process Automation for PMO latest Fashion trends. After internship one is able to learn important things that are helpful for you in future. During internship a friendly and learning environment is given to all interns. All senior staff also facilitates the students related to their field.
Ufone Internship Program for 2013 opportunity Apply online
Process:
How to apply?
Internship will start from Aril 2013
Duration of internship is 6 or 8 weak
Students of Bachelor's program of 6th or 7th semester are eligible
CGPA limitation is 2.5
Students of Master also eligible
For permanent selection Interview is necessary
Covering fields for interns are RF KPI Analysis, Mobile Financial Services, Social Networking and Online Profile Management, and Process Automation.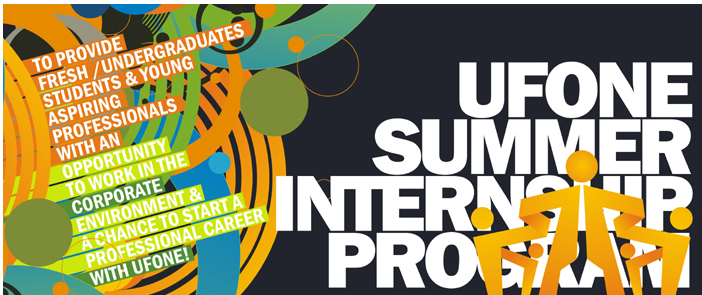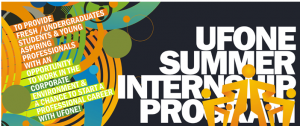 In previous year they also offer this type of program that had proved really use full for company as well as for interns. This time they take couple of steps foe its improvement and among these the major one is that they announce that 2.5 CGPA is necessary to apply for this program. They also try to make sure that every intern must try completing a project according to his filed. General Manager Human Resources announces that they offer these types of program to polish and encourage the creative students who are in starting of their career. Through this they are able to know that what factors are really important to survive in field.