In the month of Roza, people are intended to inquire how much is Fidya for Ramadan 2022 in Pakistan for the reason of not fasting or simply for the case of missed roza. Basically, this is a kind of religious donation; that comes in the form and kind of money or cash. In easy words, if you fail to continue with your fasting then you can give this specified amount of money in the form of this fidya. This practice is followed in the month of Ramzan. Here an important thing to inquire is that how much is the amount of Fidya for missing Ramadan Roza during 2022 in Pakistan rupees. It depends on you that for how many days you have to retain this practice.
This amount will act as compensation for you because you are not fasting. Keep in mind that this option is only available for those who missed Roza because of the very major reason. If you are fit, then you just need to full fill this holy responsibility.
How much is Fidya for Ramadan 2022 in Pakistan:
A couple of years ago, it has been decided by the Chairman Central Ruet-e-Hilal Committee; that the fixed amount of this fitrana and also Roza Fidya is One Hundred Rupees. It is this modest sum of amount and cost that has been fixed for a single individual.
Further, the current announcement that how much is Fidya for Ramadan 2022 in Pakistan for missing Roza is very difficult to write accurately because of fluctuations in rates. So, plz calculate it with the current price of products.
In past, Mufti Muneeb-ur-Rehman was also added that Muslims in all over Pakistan can pay this religious donation.  This amount of money is the bare and minimum amount which is fixed for Muslims. If you can donate more than this amount then you can do so. If you are wealthy and financially stable then you can donate as much as you can.
If you cannot fast in the whole and the entire month of Ramadan then you have to give donation reaching to the amount Three Thousand Rupees.
Fidya for not Fasting in Pakistan or for Missed Roza:
Basically, this is must paid amount for missed roza Fidya or simply for not Fasting in Pakistan. But, the must thing is that not missed this very important obligation of Islam.
The below letter reveal two years ago and the new amount is higher from this one that depends on these current rates of these products: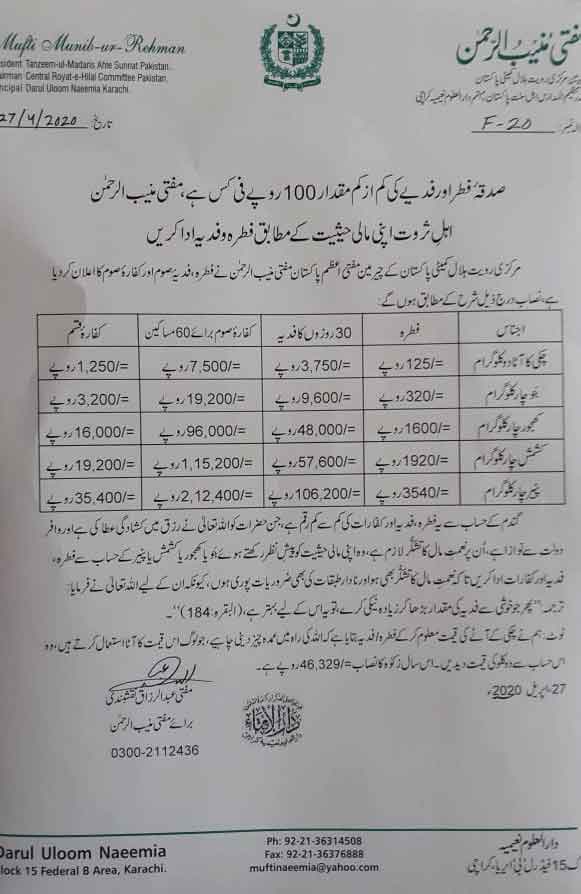 Images Source: From the Geo TV to provide exact and detailed Info regarding this Islamic Topic.
Note: The above official letter is uploading here to give the right information to readers.
Moreover, its detail with respect to other major things is clearly mentioned in the above chart. One must need to follow these instructions that must help to understand it in a better way. But again a thing to follow is that try your level best to full fill the responsibility of ROZA during this Ramadan. Because this comes only one time in a year, so never missed out these days.
This is really a sensitive issue so it's essential that the government will officially announce how much is Fidya for Ramadan 2022 in Pakistan to provide the most accurate info for Muslims who missed roza or easy to says that not fasting. As we try to convey this message earlier that make sure to obey this month but in some crucial situation this table is very useful.