Warid is another most highly famous and popular mobile brand in Pakistan. After Telenor this is another most favorite brand in teenagers and adult society. Warid is basically known for the cheap rates and special packages that widely attract the maximum and enforces them to switch their mobiles with Warid. However, their Glow super Dosti package is massively getting popular among the people. Ever since the Warid has broadcasted its Glow advertisement on the television it is already grabbed the attention of many customers. This package is full of unique concepts as this service offers to talk on one Warid number free of cost from 11pm to 6 pm whole day and after 6pm till 11 pm it demands for Rs.1 per 30 seconds. One of the most exciting sections of this package is the Friends and family number that allows the person to call at the charges of just Rs. 0.45 per 30 seconds in between 11 pm till 6pm of the next day. For more additional details about the Glow Dosti package let's have a brief look over its main features.
Warid Glow Super Dosti Package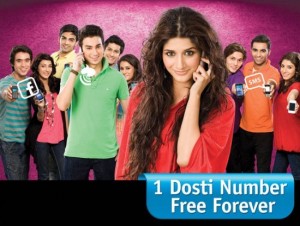 Base Tariff:
             In this package from Warid to Warid you can easily call at the rate of Rs.4 per 30 seconds. However, for other networks it will cost Rs. 1 for 30 seconds of call. Moreover, the message package will cost 25 paisa per SMS. Furthermore the international message will cost Rs.2.50. In addition, mobile service has been charged with Rs.1.2 at the speed of 64 Kb.
How to Activate:
                       For getting Warid Super Dosti package you can directly activate by dialing 7777 and for more extra facts about the package you can also call at 100.
Charges:
                All those customers who have still not switch their mobile phones to Glow Dosti package they can call by dialing 7777 and it will cost maximum Rs 10 by transferring at Glow Super package from Glow 1, Glow 2 and Glow 3. Whereas the prepaid customers can turn to Glow super package in just Rs 25.
 HOW TO ADD FNF NUMBERS:
                                         On Glow Dosti package you can make the addition of maximum 10 friends and family numbers along with one dosti number. For adding dosti number just sends message at Fre<space><warid number> and send it to 2129 that will cost Rs. 10. For adding the friends and family number just SMS Add<space><warid number> at 2129 at the rate of just Rs.9. Afterwards sends the list at 2129 for just rs.2 with tax.
So all the Warid customers just get your mobiles ready and have fun with Glow Dosti package.