As summer season come demand of quality UPS is going to its peak. Due to long load shedding customer never ready to compromise on quality. For this APC are best to buy and company starts APC UPS Distributor Dealers in Lahore Karachi is now start work whose address and phone number is given. American Power Conversion (APS) was founded by three electronic power engineers from Massachusetts Institute of Technology in 1981. In the beginning, these founders focused on providing solar electricity but with the passage of time the company flourished into a power generating product offering company which is now renowned around the globe.
The major aim of APC is to provide the best services to the customers by maintaining performance, availability and manageability of communication systems and electric solutions. They have the efficient working terms that are properly trained to provide the innovative but practical solutions to the real problems faced by the customers.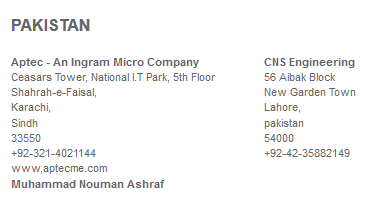 Aptec – An Ingram Micro Company:
Address: Ceasars Tower, National I.T Park, 5th Floor Shahrah-e-Faisal, Karachi,
Phone Number: +92-321-4021144
Related Person: Muhammad Nouman Ashraf
CNS Engineering:
Address: 56 Aibak Block New Garden Town Lahore, Pakistan
Phone Number:+92-42-35882149
Data center and facility 3 phase: To meet the requirements of medium to large scale data centers such a buildings, industries and agricultural processes, APC offers the high voltage UPS which can bear such heavy loads. These include
Symmetra PX
Symmetra MW
Smart UPS VT
MGE Galaxy 3500
MGE Galaxy 7000
MGE 9000
MGE Galaxy 300
Power Generation System
All the UPS products are highly reliable and are widely been used with their excellent results all over Pakistan. This is reason of its high demand without taking care of its little bit high price. This type of quality is demand of Pakistan customer because they suffer from lot of load shedding and in this type of weather its not an easy task to manage without an alternate source of electricity. At start availability is major issue but now APC UPS Distributor Dealers start works in Lahore Karachi after which now you can get device at your nearest place.