The whole list of upcoming TV channels in Pakistan 2021 clearly shows the growth rate of the broadcasting field of this country. At the starting stages, there was just one new channel and the resolution was just set up in the scheming of white and black. However, with the passage of time this television started harvesting its strong roots in the land of Pakistan and now every single house and office has been switched with the television. There would be no such house that would not be taking pleasure from the entertainment of television. It is the television that makes us laugh by showing funny movies and it is the television that allows us to cheer for the cricket team when they are playing for their nation in international countries.
As we are talking about the TV channels in Pakistan then there are many national and international channels that are currently running on our television screens. All of them are providing benefits to a certain extent.
Some of the religious channels are allowing people to know Islam more closely while many food channels are assisting women to make their family members be proud of them by making delicious and yummy recipes.
Upcoming TV Channels in Pakistan 2021:
The detailed list of every type of TV channel is separately listing below.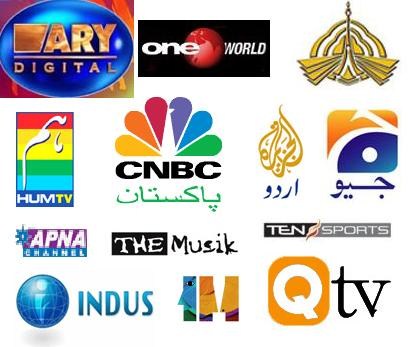 LIST OF EDUCATIONAL CHANNELS:
Virtual Television
ILIM TV
Upcoming News Channels in Pakistan 2021:
After a fall down of media industry their are not too much upcoming news channels in Pakistan 2021 that are expected this year. Because, now the existing name are struggling for their survivor.
Current TV Channels:
Aaj News
ARY News
Dawn News
Dunya News
Express-News
Geo News
Indus News
Metro One
News One
PTV News
Royal News
SAMAA TV
Waqt News
CNBC Pakistan
Khyber News
City 42
Business Plus
Bol News
92 News
24 News HD
 LIST OF ENTERTAINMENT CHANNELS:
ARY Digital
ATV
Dhoom TV
Express Entertainment
Geo TV
Hero TV
Hum TV
Indus Vision
PTV Home
PTV National
TVOne Global
Mashriq TV
Prime TV
PTV Global
Raah TV
Chalta TV
Good News TV
Hum2
Hero (TV channel)
AAP TV
PTV Home
A-Plus Entertainment
Urdu 1
LIST OF FOOD EXPERT CHANNELS:
FASHION AND LIFESTYLE CHANNELS:
LIST OF MUSICAL CHANNELS:
Aag TV
ARY Musik
Kashish TV
Indus Music
Play TV
8XM
MTV Pakistan
LIST OF MOVIES CHANNELS:
LIST OF RELIGIOUS CHANNELS:
ARY Qtv
Hidayat TV
Hadi TV
Labbaik TV
MTA 1
MTA 2
MTA 3
Madani Channel
Islam Channel – UK based channel
LIST OF SPORTS CHANNELS:
LIST OF KIDS CHANNELS:
Cartoon Network Pakistan
Nickelodeon Pakistan
LIST OF PUNJABI CHANNELS:
Apna Channel
Punjab TV
Bali TV
LIST OF SINDHI CHANNELS:
Awaz TV
Awaz News TV
Kashish TV
KTN
KTN News
Mehran TV
Sindh TV
LIST OF BALOCHI CHANNELS:
LIST OF PUSHTO CHANNELS:
 LIST OF INTERNATIONAL CHANNELS:
AXN Pakistan
Animax Pakistan
DM Digital
HBO Pakistan
WB Channel Pakistan
Fashion TV
LIST OF SPORTS CHANNELS:
In addition, there are even many news channels as well that are making the entire nation mind as alert regarding the domestic, national, international and political affairs. Moreover, the entertainment channels are even showcasing the new talents in serials and dramas that are entertaining the spectators every hour. Well at the end of this article we will highlight the list of all the TV channels in Pakistan.