For carriage of medium goods, this is a good mini truck or van. However, the Suzuki Ravi price in Pakistan 2023 of this year model pickup is also rising and falling like all other cars. But, yet it's in good demand and the solid reason of its good sale is that this is a rare newly manufactured pickup of this type. Few of its imported alternatives are recently seen but their quality is not same like this one. That again shifts the interest of new buyers towards Suzuki Ravi. Of course, the solid performance is a plus point of this cargo van. While, the sale and purchase is also good enough to prove it's good market value.
Suzuki Ravi Price in Pakistan 2023:
A common observation about the Suzuki Ravi price in Pakistan 2023 is that a lower middle class person also affords it too. But, the way rate is climbing; it's also goes out from the range of such family that they built a source of income.
| | |
| --- | --- |
| Suzuki Ravi Without Deck Price | 18,66,000 Rupees |
| Suzuki Ravi With Deck Price | 17,91,000 Rupees |
Note: Apart from the actual price, there is 20,000 rupees is the amount in form of tax that is more addable for the non filers. So, from which category you are belonging.
Suzuki Ravi Installment Plan 2023:
There are multiple factors that are impacting on the installment plan of Suzuki Ravi in 2023. From the loan duration to the down payment, many of things can effects the entire plan. So, from the following calculator one will easily get its approximation.
The only bank that is directly attached with the Suzuki is named as Bank Al-Falah. Probably, they offered it with the easy terms and also have a smooth process too.
Suzuki Pickup Price in Pakistan 2023:
Sometime, we mix up two vehicles and assumed them different and also searched the prices of Suzuki Pickup in Pakistan 2023. Reality is that both of these are the same van and their price is "1,866,000" that may shift after adding some own charges etc.
Suzuki Ravi Pickup Petrol Average:
How much distance the Suzuki Ravi has travelled after consuming one liter of petrol is a general point that arises with it. Yeah, the speculated petrol average of   Suzuki Ravi Pickup is 13 KM per liter but in real its cover
Suzuki Ravi Engine cc:
The vehicle that carry such weight is mostly has comprised of big cc engine. But, one maybe surprised after knowing the engine capacity of Suzuki Ravi is under 800 cc and how effectively it will carry heavy items.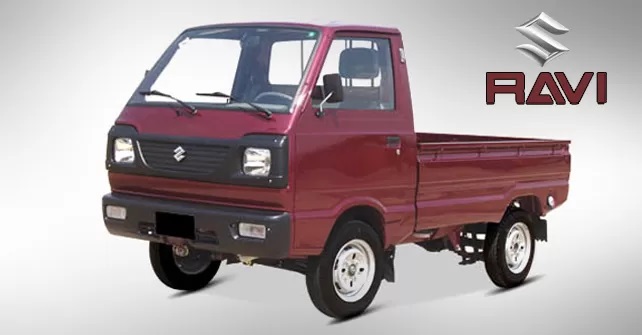 After the last increase in pickup or Suzuki Ravi price in Pakistan 2023, buyers are much worried that how they manage such amount. There is minor chance of its decrease in rate but yet not a formal statement is released about it. Maybe, govt will also do something in this matter.