These days lots of people suffer from dengue fever. Dengue is a disease that is caused by female mosquito's bite. Four kind of dengue viruses are exist and it can be caused by one of them. "Break-bone" fever is another name of dengue fever because it causes severe pain in muscles and joints which feel like bones are being cracked. During and after the rainy season it is mostly found in the subtropical and tropical areas of Pakistan. It is reported that each year more than 50 million people suffer from dengue fever. Three main kinds of dengue fever exist, 1: Classic Dengue Fever, 2: Dengue Hemorrhagic Fever (DHF) and 3: Dengue Shock Syndrome. Among these dengue shock is the most dangerous one and it is caused by just a single droplet that goes readily inside the whole body. It lessens the delivery of important nutrients and oxygen to whole body. This fever may harm the liver and blood vessels thus it might shortens the life span.
When infected mosquito bites you the symptom of mosquito will appear within 4-7 days. First sign is fever; the fever may increase up to 105 ͦ F. Common symptoms of dengue include vomiting, nausea, pain in joints and muscles, pain around the eyes, headache and rashes like red spots often appear after the 3-4 days of fever. Along with the common symptoms DHF also include the symptoms of bleeding from the gums, nose or under the skin and the damage of lymph and blood vessels.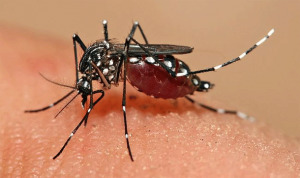 While the dengue shock syndrome include all the symptoms of common and DHF as well as in this a person may suffer from enormous bleeding, leaking of fluid from the blood vessels and might suffer from shock which may results in low blood pressure.
Till now no proper treatment of dengue is found. Doctor's suggest that take plenty of drinks such as fresh juices as much as possible like apple juice and pomegranate juice. Apple juice is considered best when you suffer from dengue fever. Do complete bed rest and avoid taking antibiotics. Famous English proverb is "Prevention is better than cure". By considering simple precautions we can protect ourselves from dengue.
When going outside or sleeping and outdoor don't forget to apply mosquito repellent on uncovered areas of body, cover your body wear full sleeves shirts, long pants and wear socks. And avoid going to bad areas means wet and humid places. Moreover, close your door and use unscreened windows, keep your places clean like don't allow water to stand in containers, swimming pools, pots, birdbaths, garage, coolers and many other places where water can stand. By doing these we can protect ourselves from having harm diseases.