Do you want to download Baldiyati Election 2013 Nomination Forms for Punjab, Sindh, Balochistan? As schedule of these Local government election 2013 (Baldiyati Election) is confirm by ECP then a process of nomination papers will start. These nomination papers are compulsory to show availability in order to contest for any seat. These papers are different according to designation of seat at which one contest in this election. Further ECP establish centers in every district for the collection of these nomination papers. The candidate that fails to submit these papers before given date will fail to contest election. After a gap of five years now ECP announced for these elections whose basic purpose to transfer authority at lower level. This system provides a proper channel for rising voice to higher level. Every ordinary person has not resources to meet with a provincial or National assembly Member. These candidates are selected from lower levels that are in easy approach of any person. These selected candidates get chance to meet with higher authority and they easily highlight basic problems. Further it's time for conducting of these local election for Punjab, Sindh, Balochistan whose nomination papers are available here so download them from this page and submit them before given date.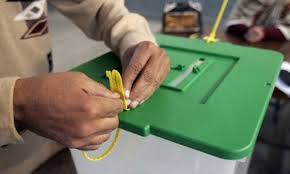 Click on below Links to download Punjab Baldiyati Election 2013 Nomination Forms:
Click on below Links to download Sindh Baldiyati Election 2013 Nomination Forms:
Click on below Links to download Balochistan Baldiyati Election 2013 Nomination Forms:
If one sees the details of this nomination form then it will consist of five pages and divide in various parts. Among these categories major is the personal information about candidate, an Oath that will necessary to take before contesting in this election. Then major instructions are also given in it that is necessary to follow for every candidate. At end a part of this form is available for all management issues. One can easily download it for three provinces of Punjab and submit it within given period of time.
Important Instructions:
All those nomination form are rejected that will submit after given date.
In complete nomination papers are also rejected so it's necessary that one fill it properly.
ECP establish collection center in every districts so submit them in related council.
Dates:
Nomination papers are available here from 10 November 2013. While last date for submission is not till announce as it will announce this will be update on this page.