Its common that when people travel from Pakistan to another country for employment or any other educational related programs, on that occasion they need attested documents from (HEC). This is a self determining, self ruling and constitutionally institute which do every effort for the progress of higher education in Pakistan. The major objective of the commission is to provide academic degree, establish new institutions and upgrading the studies level in this country. Fourteen years ago they was starting their work, from that time to now they also plays a vital role in upgrading the universities and colleges to be focal point of research, development and learning of education.  Now for attestation of degrees HEC introduce new way of verification through Courier include Leopard with a very simple process. At beginning OCS also provide these services but from start of this year they stop it.
Leopards Service:
In this modern age you can easily received attested degrees through this courier service because they are only official partner. They facilitate local customers who want to gets their documents verified. This company is responsible for returning your documents in a period of TEN days. They are best for those applicants who have no enough time or long distance to personal visit, so they like to prefer courier service.
Procedure: The method is not difficult; you need to do some simple work for it. First of all you should open the HEC official web site then click the option of courier and filling the application form very carefully. After this provide original documents to that service center for attestation.
Let's have a look at the list of Required Document:

For every original documents they can charge: Rs.800 Rupees
For photocopy documents its fee is: Rs.500 Rupees
Note: These fees never include Courier charges, for this call of below number. They must assist one further and must gives you right direction.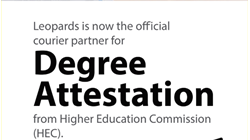 Phone Number:

So you will be getting back their attested documents within 15 days through this service. Now after this process is easy, one never needs to stand in row. Mean while its charges are not too high, within reasonable rates one can get all things in a easy way. Along with all other things they are trustful, one never need to worry about any thing.