As election come close now officials of Pakistan Tehreek-e-Insaf announce PTI Rawalpindi Candidates list for MNA, MPA and results 2013 had announced. For announcements of PTI candidates list discussion will take place from a period of time. Another important thing is that their chairman also monitors this whole process of tickets distribution. He also announce that if they loss this election then its main reason will becomes wrong selection. This year they prepare a parameter those candidates who fulfill these parameters then they are eligible for selection. After this process then they give tickets to most favorite candidates.  These seats are really important in this election because slogan and work of party is most important in this area instead of personality. Many big names got defeat in previous election so it's a big task for PTI to select right name. This year PTI had done seat adjustment with AML to give tough time to their opposition in Rawalpindi. Because sheikh Rasheed is well known politician of this area, he know really well about the nature of peoples. PTI chairman Imran Khan also participate in NA-56, he face one strong candidate of PML(n) who known as Hanif Abbasi. PML(n) had done a lot of work in this area and their candidate is also a good worker. So it will accept that a close result will announce on Election Day. We try to cover the whole aspects of these Rawalpindi seats so keep in touch with this page to find recent updates.
PTI Rawalpindi Candidates list for MNA, MPA and results 2013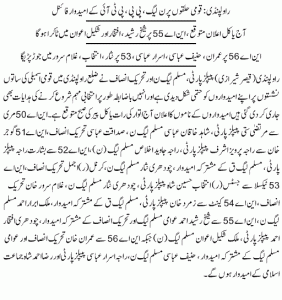 PTI Rawalpindi Candidates list for MNA, MPA and results 2013 are given there..
PTI / AML candidates list with their opposite candidates
NA-50: Sadaqat Abbasi vs Shahid Khaqan Abbasi PML(N)
NA-51: Nill vs Raja Javed Ikhlas PML(N)
NA-52: Col (Rtd) Ajmal vs Chaoudhary Nisar PML(N)
NA-53: Ghulam Sarwar Khan vs  Chaoudhary Nisar PML(N)
NA-54: Nill vs Malik Abrar Ahmad PML(N)
NA-55: Sheikh Rasheed vs Shakeel awan PML(N)
NA-56: Imran Khan vs Hanif Abbasi PML(N)
During tickets distribution a lot of discussion will take on Javed Hashmi. He win a seat in previous election at the ticket of PML(n) but this year he is not on strong candidate from Rawalpindi. So till now discussion is carrying on this seat. While another tough competition will accept on NA-55 because on this Sheikh Rasheed done seat adjustment with PTI and face Shakeel awan. This year PTI candidate's major task is to give tough time to PML (N). And it will accept that they are able to achieve this task.