Punjab Youth Festival 2014 World Records Guinness book that include biggest flag of Pakistan pictures with human and many other records in Lahore and other cities with whole detail is given there. This youth festival will organize under platform of Punjab government. Whole days of this festival comprise of different type of activates and every youngster that has ability to do things get a marvelous platform. Basically purpose of this festival is to provide a platform for all those that had not find any stage to show their abilities. For this team that note Guinness World Records is also invited that note the whole performers and the participants that think they are able to do first time in world they note them and at their performance they take them a part of world record. At initial stage world record of human flag is formed whose pictures are also given there. As number of these records increase they also updated here on this page.
Punjab Youth Festival 2014 World Records Guinness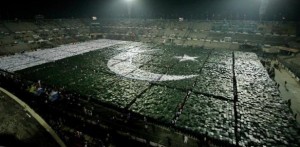 Latest record is formed in term of making biggest Flag that regain after breakage by Bangladesh.
Largest sports festival
Most People Singing a National Anthem
Largest human national flag
Largest human picture mosaic
Most people Arm Wrestling simultaneously
Most consecutive football headers by a pair
Largest Painting By Numbers
Most pine boards broken with the elbow in one minute
Heaviest weight pulled with the beard
Most hockey passes in one minute
Fastest time to arrange a chess set
Fastest time to make 3 chappatis
As one knows that at that time security risk is finding in whole over Pakistan. In this time this is a success for organizers that they handle whole thing is best way. This credit is also goes to present Punjab government that give full proof security to whole event and whole things are complete is this marvelous atmosphere. This type of necessary for youngsters to show their talent and hopefully through this those who are able to do something must prove themselves.