In this article we will be providing you all the details regarding Pakistan Military Academy Jobs 2013 for all the students. These jobs have been commenced for all the different posts within the military category but before beginning with the jobs information we would like to give a short review about the Pakistan Military Academy. Pakistan Military College has been serving with the education of all the immediate courses and trainings for all those officers who will serve the Pakistan army in future. This educational center has been working since a long time as before the partition. Before the Independence Day this institution was controlled by Royal Indian Army Services but now this has been supervised by Pakistan Army Forces. Some of the main courses offered within the Pakistan Military Academy are Long Course, PMA Graduate Course, Technical Graduate Course (TCC), Army Medical Course, PMA Integrated Course and PMA Lady Cadet's Course.
Pakistan Military Academy Jobs 2013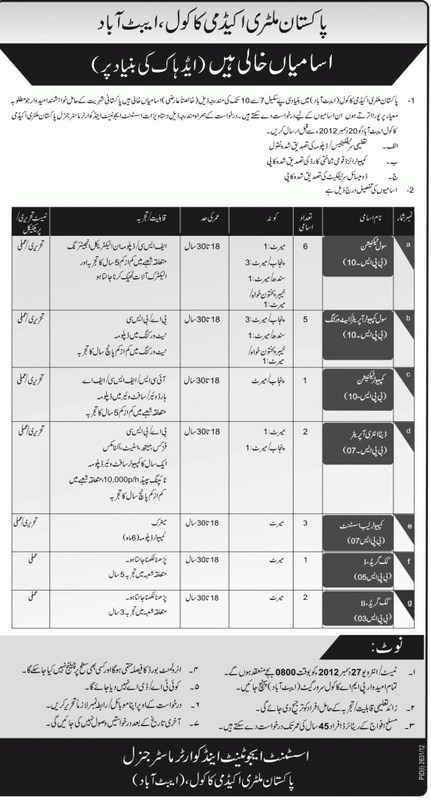 PAKISTAN MILITARY JOBS 2013:
All the students who think that they fit well for the military jobs they can submit their application forums before 20th December 2012. Well along with the application forums the candidates are also required to attach the below mentioned documents as well:
Certified Educational Certificate
Computerize National Identity Card
Certified Domicile Certificate
IMPORTANT DETAILS ABOUT THE ADMISSION:
The entry test of all the students will be taken on 27th December 2012 at 8:00am. All the students are requiring reaching on the time at the Pakistan Military Academy in Abbotabad.
If the students have been enriched with more educational experiences and certificates then they will also be considered for the admission.
If the person has been retired from the army service and has been almost 45 years old he can also apply for this job.
The students should also mention their mobile and contact number on top of the application forums.
The decision made by the management will be last and final.
All those application forums will not be accepted if they are submitted after the closing date.
Well at the end of the discussion we would say that this was all about the Pakistan Military jobs 2013. All such people who wish to get admission into these military jobs they must apply it now. We are sure that these jobs will surely live up to your expectations and hopes for serving the nation.