Today every single Pakistani would be feeling proud of being the Pakistani after witnessing the Pakistan World Records in Punjab Youth Festival. This year Punjab Youth Festival has been wrapped with so much memorable and unforgettable moments that this time it would definitely be the worth event for the Pakistan. This year Pakistan has made 11 world records. Every single all the countries try to make an effort to enter down their names in the list of world records but the passion and devotion of our country is so commendable that we did it in just few weeks. Now let us talk about the first and biggest world record ever in the history of Pakistan. This record was all about making the human flag. This style of record was firstly belonging to Hong Kong but this time Pakistan overrule the Hong Kong and almost 24,200 students helped in making the largest human flag. This flag was formed in just ten minutes. Second world record has been the creation of the picture of Lahore Fort that was made by the 1986 participants. Earlier this record belongs to the students of North America. Another more prominent world record was made by the Mian Nauman in Expo Center who made the electric switch in just 30 seconds. One more exciting record was made by the Mian Mansha for making down three chapattis in the time limit of 3 minutes and 14 seconds.
Pakistan World Records In Punjab Youth Festival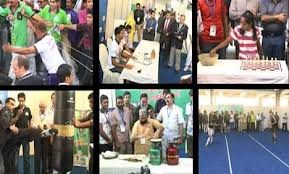 In the same series there were many records made by the people of Pakistan. Ahmad Bodla break the record of his own trainer by making the most kicks in 3 minutes. Next is the Muhammad Sadee who pulls the 1700 kg truck. In a meanwhile there was another record that counts up the 42,813 people who sing the national song at the same time. Punjab Government carry out the full fledge security measures and precautionary stages for making this event successful. As we know that the Lahore has been always on the hit list of the suicide attacks but by the grace of God no unfortunate activity happened on the main day and everything went well and in disciplined manner. Well we hope that those people who were not much aware from these records they would certainly be feeling proud of the Pakistan and every single person who corporate in the completion of this event. We hope that next year Pakistan would make more and more records.