Mobilink has once again arrived in the mobile world with Jazz Jazba Launch of Music and Video Portal. This has been one of the most exciting and interesting offer that has been ever offered by Jazz. Now you might be thinking that what this offer has been all about? Well for that reason you must read this article because here we are going to discuss the complete details about this Music and Video Portal for the Mobilink customers. This offer has been all about the entertainment of the users who are also passionate for downloading the music and music all the time in their life. Through this offer all the Mobilink patrons will get the chance to download free of cost MP3, Videos, ringtones and wallpapers of all the Pakistan, Indian and International musical bands and films. Music and Video Portal offer will allow the customers to download unlimited music and videos just for Rs.5/tax as the subscription charges.
This offer will accept all the musical handsets and items that are currently accessible in the Pakistan and will even support it as well.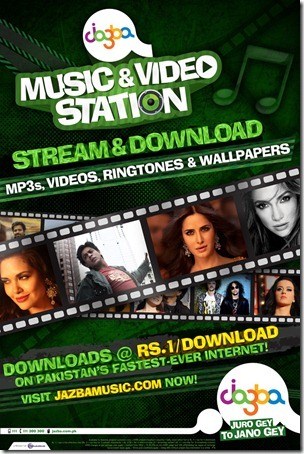 THREE WAYS FOR USING MUSIC AND VIDEO PORTAL:
All the users who wish to get avail with this offer they can just get connected with official site and access themselves with the handsets availability.
On the second way the customers can click on the option "Subscribe" and they will in return get the confirmation message for getting activated with the offer.
In the content application users can make the choice of one option as either of "Download" or either "Stream".
CHARGES TERMS FOR MUSIC AND VIDEO PORTAL:
The activation rates of this offer have been priced as Rs. 5/ tax for per day.
In per day downloading the user can avail the limit of just five or maximum ten downloads.
GPRS charges will also be applied along with the subscription rates.
This offer has been valid just for the prepaid Mobilink patrons.
This package can just be used with the handsets that are presently accessible in the market.
On the whole we would say that all the Mobilink lovers just get ready because Jazz is giving you the valuable chance to download your favorite and most wished songs and videos. We are sure that you will surely find huge pleasure and entertainment just on your mobile screens. HAVE FUN……..