Fareb Drama will telecast on Express Entertainment on Monday 25 March 2013 daily at the time of  9:00 PM. From here you can find Fareb Drama OST/Title Song.  Lyrics of this song are written by Sabir Zafar and Alycia Dias gives his voice to this song. Composing responsibilities are done by Ather Saeed while sound is design by Salman Ahmed Khan. Another important task which is Edit & Post is finalized by Irfan Haider Mir. This is really heart touching song that covers the true realities of life. Harsh experience of life is highlight in this song and finally marvelous singer voice goes this song at its peak. On the other side Fareb Drama is also goes to its peak. As further episodes are on air it will become more interesting and meaning full. Total story revolves around five main characters. This drama provides you a lot of entertainment with a lot of lesson that will help you in your personal life. So never miss its episode and also must listen this song hopefully it will really close to your feelings.
Fareb Drama OST/Title Song on Express Drama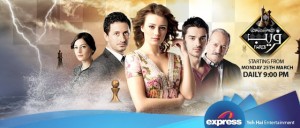 Fareb Drama OST/Title Song on Express Drama is given there…
OST: Yahan Zindagi Bhi Fareb
Singer: Alycia Dias
Lyrics: Sabir Zafar
Composed By: Ather Saeed
Sound Design: Salman Ahmed Khan
Edit & Post: Irfan Haider Mir
Channel: Express Entertainment
Above is given total detail of this song. A lot of work had done on its title song because now success of drama is also depending on the quality and popularity of these title songs. It will accept that this song get fame and also play its role in this drama because major theme is describe in it. So must listen this song and enjoy it.