NGOs mean non-governmental organizations that try to solve the problem of the poor and helpless in the developed and under developing countries. These organizations attend to rural problems, agricultural development, health care, education, women problems, children problems, unemployment and other social problems. A typical NGO is organized like a government department. It has its headquarters with the central offices and records. The operational activities of the particular NGO are making reports about its financial needs, its plans and projects, its expenditures on the staff and its publications. As we know that Pakistan is facing serious and devastating economic crisis. Since the few years back, the standard of living gets deteriorated, poverty level gets increase etc. In Pakistan, many NGOs are working for the welfare of women for creating the awareness. But few NGOs are playing very important role in other fields like health care, water development, education and agriculture development. In Pakistan, NGOs are divided into many categories which are given below:
Role Of NGO's In Pakistan Development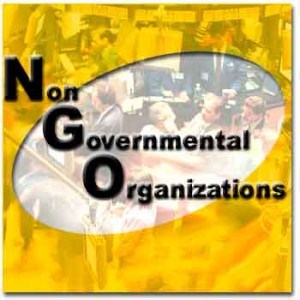 Advocacy and lobbying.
Different policy issues and debates.
Emergency and relief organizations.
Implantation of development programs.
Moreover, we would like to mention that each NGO in Pakistan should follow certain rules and regulations. It is important and essential that NGO should get register before performing their work. There are few acts which provide certain rules and regulations through which NGOs should work. Furthermore, NGOs should have certain rights, duties and responsibilities to work. Some important and popular acts for the registration of NGOs are Societies Registration Act ( XXI), The Trust Act 1882 and many more other acts. Some of the popular and well known NGOs in Pakistan are Edhi trust, Asasah, Akhuwat, Arise educational & health foundation, Aahung, Aasthan, Al-Hafiz trust and many more others.
Finally, we can say that it is important that NGO culture should be promoted for the benefit of common people. It is however necessary to have checks on the working of NGOs to stop them from becoming purely commercial organizations. It is also important to see if they are working for national causes or have started serving foreign interests after getting funds from abroad. The reason is that in Pakistan there are many organizations that are working for the foreign interests and they are considered to be fraud organizations. So it's the duty to government to keep a check on all NGOs that are working in Pakistan.