You would not believe it, but cufflinks were a part of men's attire in the 17th Century. King Louis XIV reigned France with the style and sophistication are supposed best at that time. Before you proceed to buy mens cufflinks, I have a load to tell you why these are important aspects of your outlook. These tiny button like accessories do not appear much. They tell a lot about a person and their personality.
Buyers who invest their time in using these buttons are particular in how they present themselves. Similarly, you can expect that person to be calculated, gathered, and meticulous in their business dealings.
Inception of Cufflinks ǀ Boutons de Manchettes:
As describe that history leads to King Louis XIV, as he was seen wearing them first. There is a possibility someone else started it, but the gathered proof led to the Emperor of France.
Those cufflinks were not anything like today's cufflinks. They were customized as per person's preference, name or shapes painted on buttons, and tied with a ribbon, string, or tiny chain. I wish I could get my hands on one of those intricate pieces.
Colors of them are also matters a lot because their match with the dress make them more prominent. For trendy and budget friendly men's cufflinks, you can try out Reflexions Store catalog. From quality to designs, these are the finest items. For wedding or other function, they are different and more stylish in look.
Evolution of Cufflinks:
These weren't common among people until the nineteenth century. This is when industrialization took in those tiny buttons and made them available for anyone who cares about their attire.
Men and women were seen wearing those silver, golden, and pearl buttons on their cuffs and collars. Often, these articles were seen in social gatherings. Post WWII, the trend gathered momentum with even  more customized items such as cigar cases, cigarette lighters, tie pins, keychains, and rings.
While it may seem like a lot of jewelry for men, these pieces were created in a way that adorns the male style and gives them a more masculine aura.
Those pieces would include animals like tigers, lions, and jaguars to depict symbolism of power. Even today, you will find many cufflinks with cannibalistic animals on them.
Consideration in Buying Men's Cufflinks:
When you are buying men's cufflinks, you need to have some considerations. You have to see what dress shirts you are pairing them with. In case you have something casual and solid colors, cufflinks link this work; see below for the picture attached.
These are subtle and casual and work well for an everyday business look, but when the work demands and you need something that is a style statement yet elegant, here is my pick for you.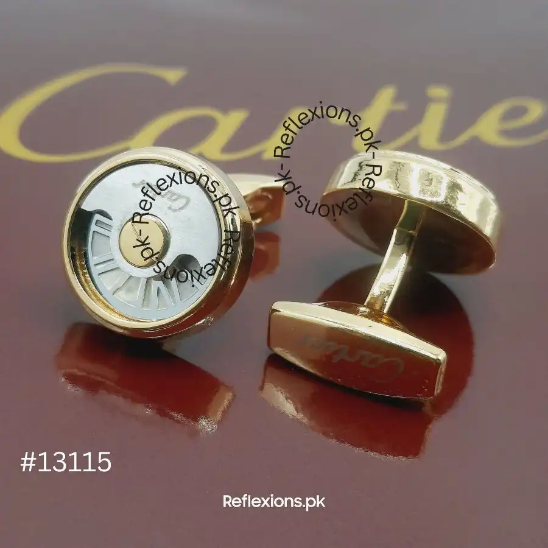 These are elegant yet scream the importance you have for yourself, your work, and your commitments. Then you have ample buttons that are good for casual yet fun days where you want to mix fun with elegance but in a subtle way.
Many brands, such as Gucci, Hermes, Yes Saint Laurent, and Coach, are famous for the emblem on the cufflinks. These are not only symbolic but also tell a lot about personal tastes and preferences. With that information, it is very easy to find the gift for your boss on the boss's day or Father's Day.
It worked to get them for my nephew on his graduation. While it would make a nice accessory to his dress shirt, it made us teary eyes. It was symbolism, for he leaves his boyhood behind and enters a new epoch in his life. These can mean anything you want. They can be symbols of love, care, consideration, appreciation, or the turning of a new era.
All in all, these are a great addition to anyone's wardrobe, elevate the overall attire, and make one look presentable and taken seriously. Head over to Reflexions Store and check out their extensive catalog and pick one today that improve your whole attire.