New 2015 Honda CG 125 Deluxe Price in Pakistan New Body Shape Pictures are come that is really stylish. This company is having well reputed among the people of Pakistan due to their best performance, quality based produces and the also provides the best customer service in all over the Pakistan. Now this time this company Honda Company introduced the latest and new 2015 CG 125 Deluxe in the first time in Pakistan. This CG125 Deluxe is perfectly matched with choice of people because this company is always introduced the quality based products for the people of Pakistan. This motorcycle is available is most cheapest and affordable piece just for advertizing of the advanced model with different kinds of latest features and specifications. It has 4 stock powerful engines and used the new technology for low fuel consumptions and used for high speed and also used for long runs. In this motorcycle used CDI technology for ignitions with smoke less engine and having different designs as compare to others with new graphs and consist new shape back light, elegant front light and stylish speedometer. The customer feel pride to runs this motorcycles because it's fulfilling all the requirements with affordable price in this modern age.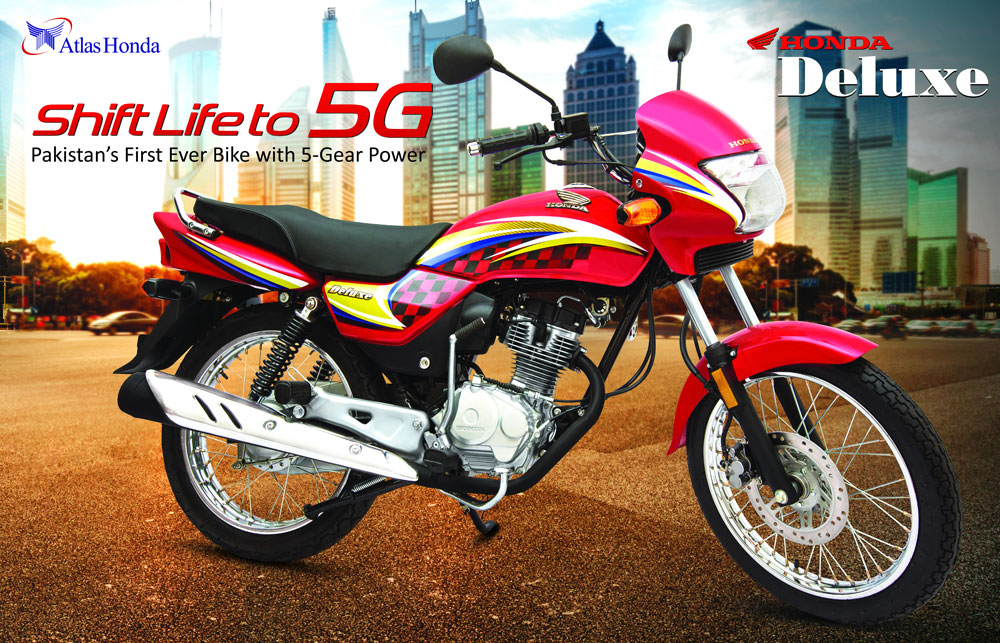 Price Plane:
This new model Honda CG 125 deluxe is available is just only 125,000.
Fuel Average:
This bike having capacity to run 45+ km per litter for long route.
Fuel tank capacity 9.2 L with 1.5L reserve capacity.
 There is no doubt Honda Company is leader of market and the aims of this company to introduced the latest and newly technology in the market and contributed the development the motorcycle industry and also really contributed to progress of the Pakistan. The vision of this company is o satisfaction of the customer because they really known customer satisfaction are the big achievement of the company. This motorbike is contests of good control of breaks with five transmission gears system and also having different type of silencer in silver color and also this bike available in black and red colors.