You are at some party or want a perfect formal attire, Waistcoat Styles for Salwar Kameez 2023 matters everywhere. Especially, men belong to the Asia region wear these special suits as part of their culture. No doubt in Pakistan this is a national dress too. This kind of outfit provides elegant grace with a lot of comfortability. Some appropriate matching is clear from the underneath pictures gallery. Though the tradition of this combination has evolved with the passing years. For this reason, a waistcoat of the traditional fashion is now introduced by modern fashion designs to add more style and formality to your look.
These waistcoats in plenty of designs worn with different Shalwar Kameez Designs establish the best contract. Meanwhile, this is also a perfect office attire. Presently, the number of professionals consider it a major part of their outfit.
Waistcoat Styles for Salwar Kameez 2023:
New introductory, Waistcoat Styles for Salwar Kameez 2023 are in Poly Viscose, Silk, Jamawar, Georgette, Suiting and  Jute fabric and every of these design are way better than the other one. Moreover, now these are in many fabrics that is even based on the type of event where one will choose to wear them.
Moreover, if u r interested in the most trendy ways of pairing a smart waistcoat with a classy shalwar kameez, there are many innovative ideas explored here.
A pic of Waistcoat in Black Color: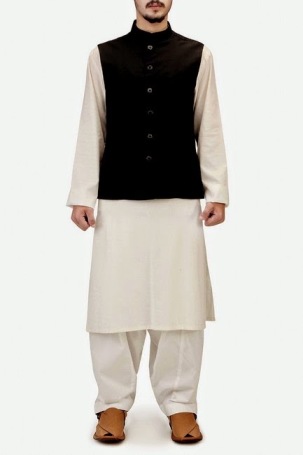 In the past traditional dress code of shalwar kameez was worn on a wedding and pre wedding functions by the groom and the other male guests. Thus, a stylish waistcoat can add a statement to your casual everyday dress to be perfectly worn at the wedding and other formal parties with the eastern theme.
Colors: Now many of new waistcoat contract are also tried that make them more elegant. Further, Black, Brown and Goldish shades are best in matching.
Waistcoat Designs for Salwar Kameez 2023:
The waistcoat designs in its eastern still find its origin back in the 19th as was warn with salwar kameez as an official dress code in the subcontinent from that time to the current year. Hopefully, the new Waistcoat Styles for Salwar Kameez 2023 make this complete outfit more elegant.
This trend of waistcoat flourished with the time. The trend has still important in men's fashion wear with few innovations. After this, the designer also had done work on it and launch its designs according to the nature of collars.
 Like for double collar, waistcoat design is different from the single collar. This change helps in making the best matching. Now in its new addition to Velvet fabric looks the best one.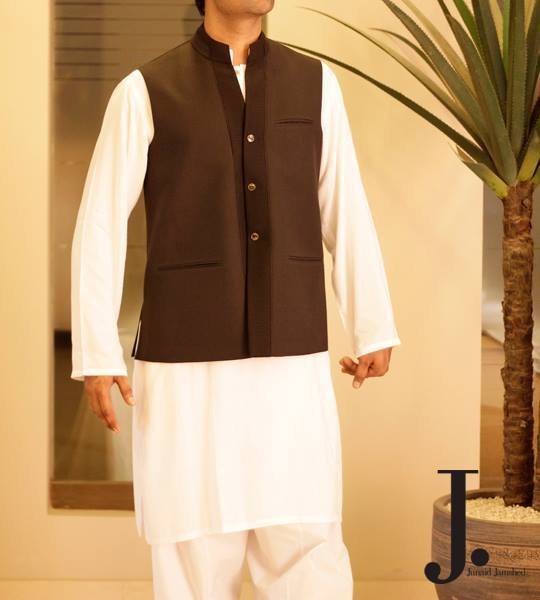 Yes, people only take care of their color matching. From the time when designers start working, they try to contract the fabric of both items. Without any doubt, this addition enhances its charm. With this more person wear as formal as well even as professional attire. Still, some people lose their confidence when they are in this matching because for them this is quite new things. Definitely, Waistcoat Styles for Salwar Kameez 2023 will attract peoples of Pakistan towards itself. Even, it will alter the entire looks too.