Newly arrival of the latest Turban collection for grooms 2019 is consisting of some elegant style of Kulla. As it's obvious about the wedding that it's a very special occasion for grooms. Although normally men are not too selective regards their outfits. But, on that day they also take attention to their attire. Traditionally, Kulla has considered a major part of the groom outfit. That's why its selection is really important as like sherwani. Now in 2019, the latest Turban collection has prepared for grooms. These Kulla are in various design, so it depends on your wedding outfit that which one will suit it.
Meanwhile, this time the creator has focused on bigger sizes because they look more fit then small sizes. If your wedding will come on head, then select any one among these styles and order it to your dress designer. Because it's not assured that one will get an exact design from any store.
Turban (Kulla) Collection for Grooms 2019:
The below gallery shows the Latest Turban (Kulla) Collection for grooms 2019, so must select any one among them.
If one summarize complete outfit of the groom, then men's Wedding dress in Pakistan is mostly of Kurta or sherwani and on the head, there is a Turban also called Kulla.
For this, a general formula is that first of all select a Latest Sherwani Design. And then match it with the appropriate headwear.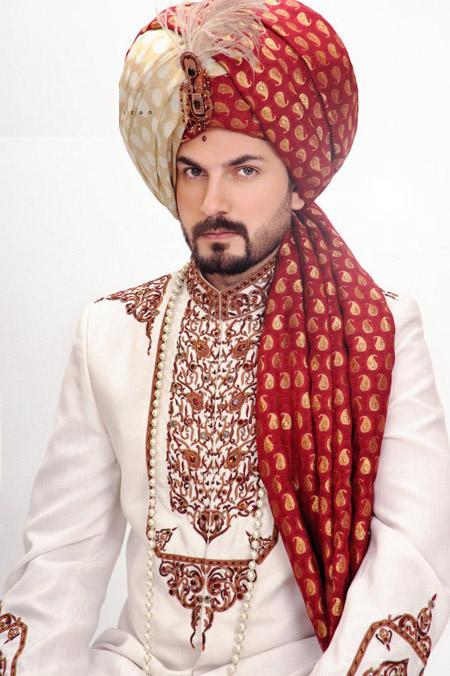 Images Collection:
Most of us thinks that every Turban has the same shape, and anyone will suit every man. But it's not right, because a man heigh, color and every face shape require different designs. That's why don't take this selection soo easy. Moving towards the color, then now darks colors are trending in Kullas.
Furthermore, now more than one colors are also using in their making. These multicolors enhance their look. But before selection of anyone among these latest turbans (Kulla) collection for grooms in 2019, choose anyone in which you look decent one. An overrated selection also gives an odd impression to your entire attire.