PTCL is the leading internet and land line company which is the government department working since last 30 years. It provides interesting and attractive packages to its customers. Now everyone is using wireless internet connection in the form of a device called EVO. This is a best choice for everyone because by using this device people can use internet where they want. So here is a good package for the EVO customers.
PTCL is going to introduce a package for those EVO customers whether they are prepaid customers or postpaid customers that those who did not recharge their device since 10th December 2013 just insert their device and get an internet of 2GB for 15 days. This is a free of cost internet and valid for 15 days. This offer is for EVO customers, EVO wingle customers, Nitro, EVO cloud and Nitro cloud customers.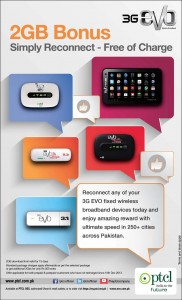 So as I said above that PTCL is friendly to its customers and provide packages in the favor of its new and old customers. So if people want to get a good internet connection that should use the PTCL internet connection for good speed and good browsing. Basically PTCL offer it to regain the confidence of their customer that skip this network due to some reasons. It will must attract customer towards it and then because they make better their system they must force user due to good speed.