Telenor is one of the most famous and well reputed mobile services in Pakistan. This brand is known much among the teenagers and adults. Every time this brand has introduced something exceptionally special and unique for its customers and just like every time this year as well this mobile brand is again back with their wholesome amazing internet package. Freshly, Telenor has highlighted its 500 MB mobile internet service especially for the Djuice patrons. As the service has been highlighted in the public it has won the hearts of millions of Telenor customers in just one week. This service has been put forward for such people who are interested in getting connected with the internet world all the time. In addition it allows getting huge amount of data in maximum internet speed arrival. This service can easily be activated on the mobiles at just the cost of Rs.250 per month at the speed of 250MB. Moreover, this package does not support any taxes for the service but unfortunately this package has not been launched for the talkshawk customers. Let's have a quick look over some of the most prominent and highest flying facts concerning the Djuice internet package.
Djuice Internet Bundle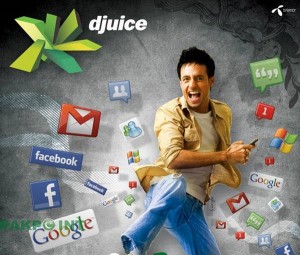 TELENOR DJUICE INTERNET OFFER DETAILS:
                                                                                     Telenor Djuice internet service has been serving all those customers who have switched their Telenor services to Talkshawk 63 and Djuice Din Raat packages. Moreover, the patrons can also get the pleasure of using 3 MB mobile internet at just Rs, 4 per day that is initially offered at Rs, 10 per day charges on all other mobile packages. All mobile services have been offering the internet facilities at tremendous price rates but Telenor is about quality not about rates. However for getting this package it is vital that you must foremost get connected with the Talkshawk 63 or Din Raat packages. Those customers who have sill not activate the Talkshawk 63 and Djuice Din Raat package they can directly dial *345# or either they can call at 345. The actual price of this package is just Rs.4 per day. Furthermore, the user is required to activate the package daily by dialing *345*900# and the package will get finished at 12am midnight as the day ends. In order to check the total mobile internet quota you dial *999# that will cost Rs. 10 paisa per dial. So all the customers' just recharge your mobile phones and get yourself filled with fun by using this mobile internet and we are sure that you will enjoy using this package again and again.