This time Mobilink has arrived in the market with the Jazz Day Time Packages. Mobilink is famously known as Jazz within the network world and this network has been known as one of the successful and leading networks in Pakistan. Jazz has been one of the very first networks that ruled over the mobile networks. This has been much identified in the middle of the office going and aged people. Ever since their creation this network has always arrived with eased and much relaxing offers that has not just contended the Mobilink customers but even attracted the attention of other network customers as well. Freshly, Mobilink has highlighted their Day Time offer for the patrons. This offer allows the customers to make the free calls for one hour at day time. This service has been named as "Ghanta Offer". This service has been availed after closing the night packages on all the networks. Through this Jazz offer all the customers can get closer with their mates and loved ones one more time and can get in calls for one long hour. Let's have a look over the activation and terms of Ghanta Offer.
Jazz Day Time Packages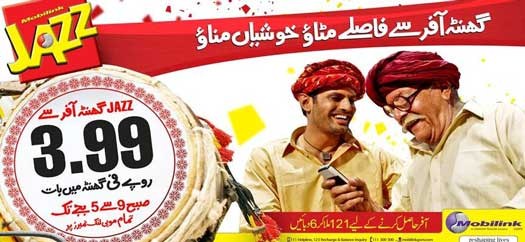 ACTIVATION AND TERMS OVER CALL TIME PACKAGE:
This offer has been just taking breathe for the users of Jazz Easy Package.
All the customers are allowed to make constant calls within 24 hours on all the Mobilink numbers.
Every single call made on the Mobilink number will cost the rate of Rs. 2.99 per day.
The very first plus will cost the rate of Rs. 0.90 and the second plus will count Rs. 0.69 and after it the call will be all free.
In this offer the plus is known as per second.
Jazz Easy Package users can get connected with this offer by dialing *105#.
This is the limited time offer and can be closed for any instant moment.
All those customers who were previously linked with Jazz Easy but they have changed their package they have to return back to Jazz Easy for using this offer.
Well on the whole of it this was all about the Jazz Ghanta offer. We are sure that all those people who were not currently aware from this offer they would have definitely pick up their mobile and tune up with the Jazz Easy Package. We are hundred percent confirm that you will just love this offer.