With out any uncertainty they are initial cellular service providers in this country. They cover almost every place, that with respect to users number they are at peak of list. Pakistan number one network Mobilink now felling pleasure to introduce New Series 03000 code to all the people living here. These special numbers will be available in all the centers of this country with a price vary from Rs. 1,000 to Rs. 100,000. Important these are available in both prepaid and postpaid so choose your own number according to your needs with this code. This number will bring back this network to the top of the mind. And yes definitely those won who takes initiatives. Mean while its also plays a role to attract new users, because this has a special attraction in it. Although apparently its  look that its produce problem in completion of total integers. That why now this is going interesting one.
Another aspect of its importance is that with any other figures apparently its looks special one. This is the natural beauty, that one enjoy in it. So the customer who don't like ( 1, 2 , 3 or 4…….) number in their code they must book it before the time it will go short.
Number: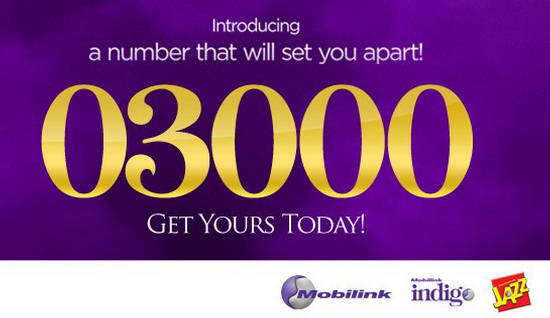 Its over all performance clear that no other one match connectivity like this one, secondly its coverage area is more then any other net work. Lastly customer care services are more important then any things else, they are awesome in it to.
Because of old operators they knows all the gap of this sector that need to fill up. Mean while they also has idea about user mental approach. That is the cause of bringing up this series. Further now users trend toward it make clear that is this addition is right or not. In current rivalry in this sector its necessary to satisfy users. Either then this its not possible to stay in this market. Hope so this will entertaining for all of you.