This time Warid offers Blood Bank Services for their users. Warid has been known as being the most distinguished and famously identified mobile network in Pakistan. This network has all the time arrived with such offers and services that have always helped the customers to feel easiness and convenience to some height of time. Whether it is about SMS offers, calling rates or international services, Warid has never let down the hopes and expectation of their patrons. Well this time Warid has inward with the highlight of their top excellent and generous offer of Blood Bank. This service has been not aimed in gaining any appreciations and good words as their main purpose has been connected with the humanity and serving all such people that are in the need of blood. By using this offer the person can just send an SMS to Warid number and you will instantly get availed with the blood. At the distance of just SMS the blood receiver will not get all the blood matches within his city and will even get the eased accessibility of getting in touch with the blood donor through contact number.
Warid Offers Blood Bank Services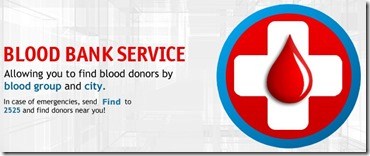 INSTRUCTIONS FOR BLOOD DONOR:
Such person who is requesting for the blood will send a message "Blood" to 2525.
After receiving all the blood details the donor will send his blood group details in the next message.
Afterwards, the donor will even enter the code of its city such as 042 for Lahore so that the system can find the blood group within the city limitations.
Once the registration has been all ended, the donor will get another message that will accompany the details of some of the available blood groups.
STEPS FOR BLOOD RECEIVER:
Firstly, the receiver will send a message as "Find" to 2525.
After getting all the details from the system, the person will clarify all his or her blood information to the system.
In the next step after clearing the blood details the receiver will give the details about the city and enter the city code as well.
After it the Warid operator will send the list of all the accessible blood donors ID and in this way the receiver will make the choice of one donor.
After sending the ID number the receiver blood request will be send to the blood donor.
CHARGES RATES FOR BLOOD BANK SERVICES:
Per message will cost the amount of Rs. 20/tax.