Now Mobilink enter in ground to give special discount to FnF through Mobilink GupShup Offer. This is one best offer through which Mobilink jazz give major benefit to friends and family numbers. Now competition between cellular networks is going to peak. Every network is busy to attract customers toward it through attractive offers.  In this race Mobilink is ready to beat other networks; another benefit that goes to Mobilink is that they are one oldest network in Pakistan. Their customers are loyal and they are not ready to leave this network at any cost. They all know that Mobilink announce offer at right time and more beneficial from other networks. Another important thing is that Mobilink always announce long lasting that through which you can get benefit for a long time period. According to this offer you can make unlimited calls from 12 AM to 7 PM next day on FnF numbers. While Rs. 7 will charge on daily bases. We try to give details of this package so keep in touch with this page.
Mobilink GupShup Offer details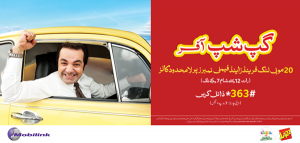 Mobilink GupShup Offer details are given there….
Mobilink GupShup Offer Details:
This offer will valid for one day and it's necessary to activate it on daily bases from 7p.m and 12a.m.
You can get this discount for 20 Mobilink FNF numbers.
To add these number Rs 5+Tax will detect.
Call charges to other numbers will remain same, as per base package.
If a customer migrates to another service class where this offer is available, he can use the incentive. However, if the offer is not available on the migrated class, he will be able to avail the incentive till the expiry of incentive
How to Subscribe:
First add your friend and family numbers (FNF) through *364*Number#.
In order to avail this offer dial *363# and get total details to activate this offer.
After one day it will expire so it's necessary to repeat same procedure on daily bases.
Validity date of this offer is 30th June 2013
Every Mobilink user get advantage from this offer except Jazz Easy,JAZZ 24 Ghanta,Jazz Aasan and Jazba Starter.
Daily Charges to subscribe Mobilink GupShup Offer:
To activate this offer Rs 7+Tax (Rs 8.37 including tax) per day will detect daily. Through this offer one get best call rates. So never miss this Mobilink GupShup offer and must take benefit from this offer.