There are a large number of telenor talkshawk customers who are using telenor talkshawk network and it is because that telenor talkshawk has one of the low rates, best network coverage and best packages for his customers. So for the requirement of new generation like young boys and girls telenor is going to introduce good packages to win a large amount of money in the form of cash of 500,000 to 1, 000,000. There are no charges deducted from the telenor company for this package subscription. It is almost free of cost and this offer is only for telenor customers. So according to the requirement this offer will bi activated through some procedure and the procedure of this amazing offer is give below:
There is no subscription mechanism for this offer and its gland to know that it is the first package in the history of telecom which has no subscription mechanism. Every person who is using telenor network is eligible for this offer.
All telenor subscribers are eligible for this offer and there are no extra charges or any tax charges for this offer. The bonus and plus point of this offer is that by this package or you can say that by this lucky draw a man can win a large amount of money of 500,000 and win a money of 1,000,000 every week.
Charges deducted from this package:
There are no charges of this offer. It is free of cost and for every telenor customers.
One thing should be kept in mind that it is free of cost offer and charges and this offer is from now to until 28 February 2014.
Mechanism for this luck draw:
There is no activating mechanism for this lucky draw. Every talkshalk customer can get a entry of this luck draw on daily basis and on weekly basis. If a person is using telenor network more in one day by doing calls to his friends, family members and his partners, its mean he has a more chance to win the daily lucky draw and if a person is using telenor network more in weekly by doing calls to his friends, family members and his partners, he has more chances to win lucky draw on weekly lucky draw.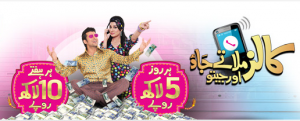 Weekly prize is from every Monday to Sunday for the campaign.
If I won the lucky draw (lucky prize), how I will come to know?
 The person who won the lucky draw will be informed through calls and SMS by telenor network number 347 .if you received calls or SMS other then 347 it mean this is fake and telenor is not responsible for this act.