Now Mobilink launch a service through which customers can make Mobilink Missed Call and SMS when they out of balance. This service is announced to give benefit to all those users who want to get in touch with their friends and they are out of balance. And they also not able to get facility of advance balance or loan. In these situations this service is enough to facilitate their users. Mobilink always sees the difficulties of their users and they also remove them with passage of time. They also try to fulfill the requirement of their users. Due to this still now they are on top among the cellular networks that work in Pakistan. The most important thing is the age of this network is quite high from others; this is one initial cellular network that start working is Pakistan from long period of time. They maintain their quality and favor their users so still they are able to stay in this high competition. This service is best example of their quality. We try to give you total details of this offer so must visit this page.
Mobilink Missed Call and SMS Service customer out of balance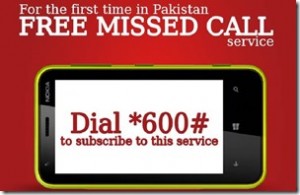 Details about Mobilink Missed Call and SMS Service customer out of balance is given there..
Procedure for the Subscription of this offer:
In order to subscribe this offer you have to dial *600#. After this you receive activation notification and a SMS that have total details about its activation.
Procedure of Generating Missed Calls and SMS:
After dialing *600# one get three options in the from 1: Send Missed Call, 2: Send SMS and 3: an account summary. For missed you have to choose Send Missed Call while fro SMS you have to choose Send SMS. While account summary is used to find the remaining number of missed calls and SMS in customers account.
Terms and Conditions:
This service is only for prepaid customers.
First main condition of this offer is that it will available for any prepaid users.
After end age of missed call and sms it's necessary to activate this offer again.
To activate this offer detection will take place in advance.
This service is available for On-net and off-net missed calls and SMS .
Charges:
The charges to subscribe this offer are Rs.2.25+t/week. After consuming this package with in week one is able to activate it again. According to charges of Mobilink Missed Call and SMS Service this seems to quite best and beneficial for their users.