PTCL facilitate the students through up gradation of PTCL Broadband student package to 2Mbps in free for limited period of time that is two months. During these days students enjoy this internet speed in previous amount that they pay for 1Mbps. Officials of Pakistan Telecommunication Company Limited PTCL said that PTCL Broadband student package will automatically will upgrade to 2MBPS. Every student user can get benefit to till 30 June 2013. While at start of July PTCL detect the original charges of 2 Mbps that is Rs. 1,299 per month. So it's good news for all those students who get benefit from this offer. After this high speed they also get facility of unlimited downloading.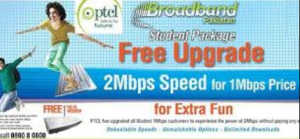 Few other features of this offer are also given as below:
1: Through this offer you get chance for unlimited downloading
2: There is not any process to activate it. Automatically it will activate.
3: There is not any charges detect for this service till its limit.
4: All up gradation will revert back to previous offer by dialing 1236.
5: If you would never revert back this offer then after limited days charges according to 2MBPS will detect.
PTCL always take care of their customers and for this they always try to facilitate them. From a period of time they offer attractive package. But this offer is for short period of time so it will arise various questions in customers mind.