Lastly, with the approach of 2018, Wi Tribe has revised their broadband internet Packages.  Now, some new bundles have covered in these new proposals. In meantime, LTE-A 4.5G technology delivers awesome net speed to all valuable customers. Moreover, these offers have been all surrounded by the affordable and reasonable rates that would allow the customers to get connected with the internet world and download and get online with as many websites. This whole thrilling bunch of the internet has been categorized into LTE-A 4.5G and 3G Speeds Packages, which is further dividing into two categories. Surely, this time one will observe a major difference in services of this company. Importantly,  rates are also going down in this year, that is very happy news for customers.
 Note:
Right at the time, officials have offered the discount on activation charges. This proposition is adequate for the short time. So one has a chance to save the reasonable amount of money.
Wi Tribe Broadband Internet Packages 2018
Let start with LTE-A 4.5G Speeds Packages, make your mind clear that because of advance technology one will get better speed in these bundles.
Offers Chart for Postpaid Users

: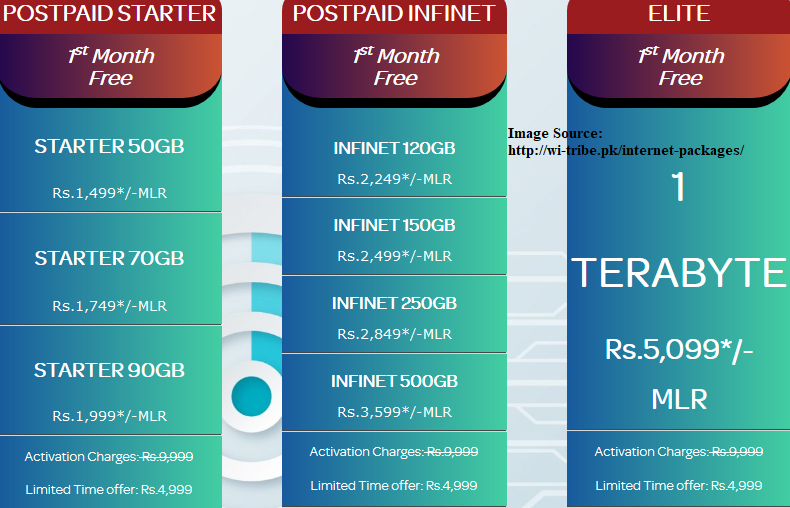 Basic Packages:
| | | | |
| --- | --- | --- | --- |
| | Speed | Volume | Price |
| Starter | 4.5G | 50 GB | 650 |
| Starter | 4.5G | 70GB | 750 |
| Starter | 4.5G | 90GB | 950 |
Lets review Prepaid offers:
One will get benefit of

50GB

for only

2,299

Rupees
While for

90GB

offer, company will charge

2,799

Rupees
Let Check Out
"3G Speeds Packages"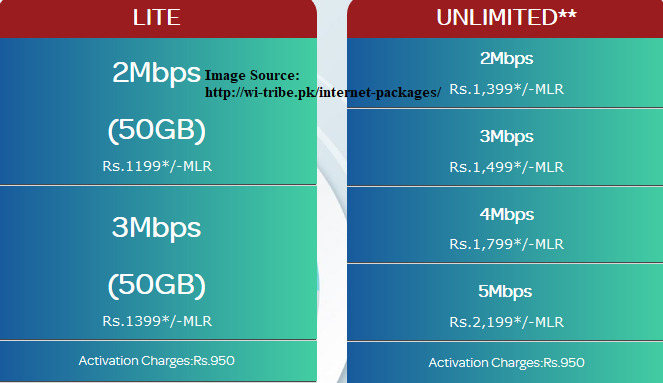 Note

: 3G speed offer are only for Islamabad and Rawalpindi
Main Points OF WI TRIBE Internet Package:
As its clear from the chart that postpaid offer has covered different speed that will start from 120 GB to till 500 GB. Surely this is so surprising.
This time company has ended up the concept of student or business offers.
These internet policy speeds will be utilized within one whole month.
If you are new on the WI Tribe customer list then you have to pay the security rates and activation charges before getting connected to the internet. But as mentioned earlier that now some discount has offered.
Well, we hope that all those Wi Tribe customers who are still unaware from some of these packages they will surely get activated with them now and take the pleasure from the constant whole month unlimited internet browsing.