Latest new designs of Pakistani Bridal Dresses 2015 with prices details and facebook pictures. Wedding day is exceptional and significant for every girl. Every girl has the utmost desire to make her wedding memorable and unforgettable for herself. But it's only promising if bridal dress, shoes, jewellery, makeup and mehndi designs should be fine-looking for giving unusual look. In all such categories the bridal dress is of the unique significance. She wants to make it matches well according to her look and personality. In the past and even today the bridal lehangas are the foremost choice of the wedding bride. Lehanga is further accompanied by the odhani and blouse that is suitably fitted around the waist. The blouse comes in varieties of colors that are matches well with the lehangas.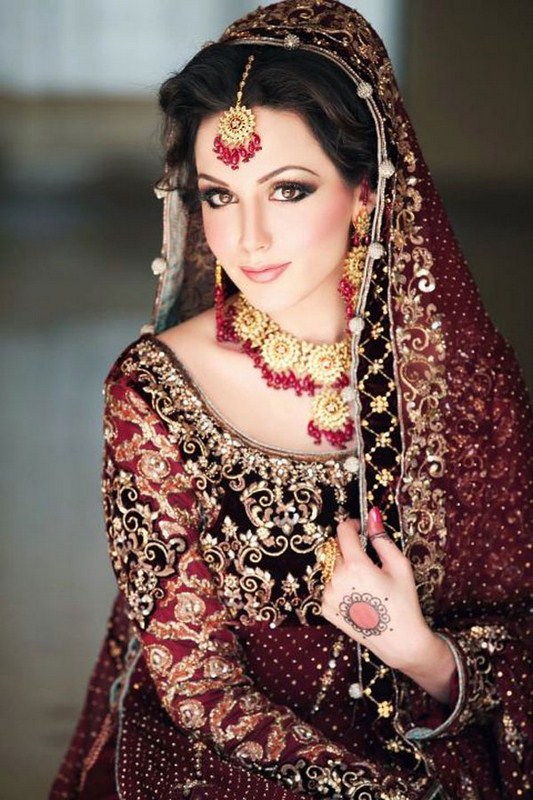 In addition many of the famous and well reputed fashion designers of the fashion industry have also been increasingly introducing the dazzling bridal dresses into the market. They also designed these bridal dresses keeping in view the personal choices and demands of the bride. Some of the well recognized bridal outfits include sharara, saree, hijab, shalwar kameez and gharara. Sharara is recognized to be one of the top ten bridal dresses in Pakistan. It is mostly prefer in the summer season. It is form of long maxi that is further make prettier by the gleaming embroidery texture. Saree is another bridal dress that has been specifically getting inspired from the Indian culture. It is highly demanded in Pakistani wedding ceremonies that involve nine to ten meters along cloth that is firmly tied around the waist along with the beautiful blouse designed along with it.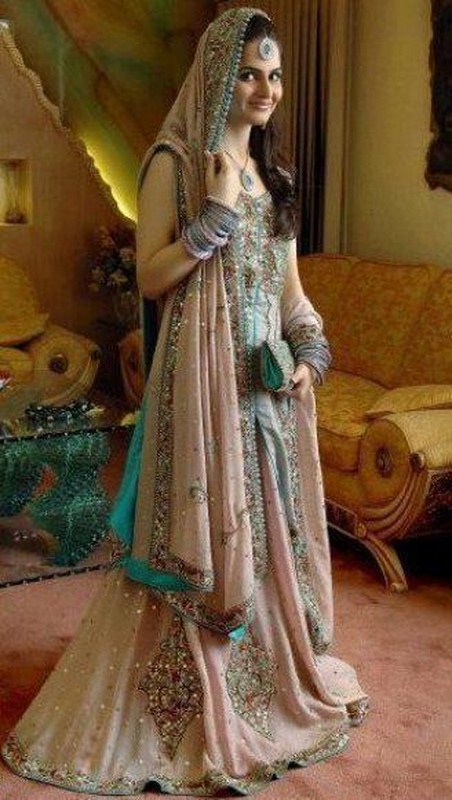 In addition to them hijab is also one of the interesting bridal dresses that is especially motivated from the culture of Malaysia. Although this form of bridal dress is not much demanded in today's wedding ceremonies but still many events do consider such outfits that is mostly designed in the shape of Lehanga by covering the entire head with scarf. Last is the Gharara that is one of the old fashion statement dresses but this form has again harvest its roots in 21st century. In wedding ceremonies it is massively demanded by the people. It includes the presence kurti, dupatta and long legged pants by giving the touch of flares at its end. However all such bridal dresses are considered by the wedding bride by keeping in mind the placement of the event and the environment. If anyone of you is becoming the future bride just try these bridal dresses ones for making your event more memorable. Few pictures of Pakistani bridal dresses 2015 are given below:
Pakistani Bridal Dresses 2015
The above album is enough to understand the trend that now find in the dresses of brides during 2015. This is almost same few changes had done in color combination while usage of light color also increase. Hopefully this collection satisfy the whole brides so must see the dresses of this collection.