If you have been invited on some party and you have finalized your dress and shoes then there is one thing that you are missing! Yes, that is your hairstyle which should be finalized by you if are you are going on a party. An attractive and a sober looking hairstyle with a matching makeup will capture the attention of others towards you on any party. You should come up with a catchy looking personality. In underneath pictures of proper makeup and hairstyle that are style with respect to latest trend 2017 for Pakistani ladies are dispatched. Right selection according to your personality is really important for all age women. for hours and hours.
Types:
For the evening party, you can try a half crown braid hairstyle. This braided touch is one of the elegant one. You can put up fancy small beads in that half crown braid of yours. It is an organized and will give a finishing look to you. While with this a light make up suit on your face according to local skin type.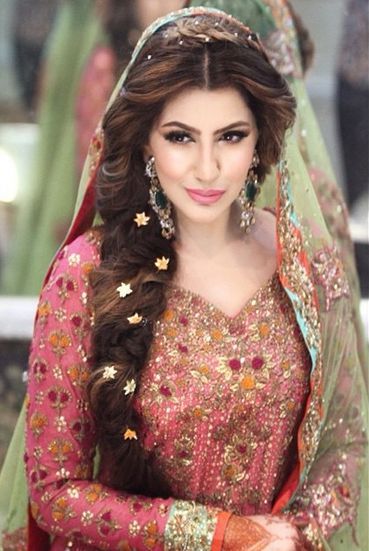 Girls can go for a thin kind of braided hair catch. It is the simplest one, if you do not have much volume of hairs then come up with a thin braid and give it a hair catch shape and let your remaining hairs to be as it is they are! As girls are young so their skin looks fresh, they can goes with both light and heavy make up to.
For night party a Bow Bun is best hair style that looks sophisticated. You can make a high bow bun or a slight low in length bow bun, it is up to you. Give it a refined look and wear some elegant dress with this elegant looking one. Because it's a decent one so ladies of more than 30 ages prefer to wear them, so a heavy makeup is require with it.
They can come up with a stylish looking ponytail. It is a sleek and a simple one. Make a ponytail and give yourself as much simple look as you can. This is one cultural one that follow from last few year.
Another benefit of this style is that one has wide range of makeup option with it.
More you can try out the twisted braided updo and messy buns hairstyle. These messy buns will give you ore younger look and these buns can remain in shape for whole day.
Before leaving review the pictures of these Pakistani party makeup hairstyles 2017, you will be getting a better ideas from these images. Now, if some party comes at your end, make sure that you do style your hairs like these, you will get a perfect changed look for sure.