In Higher education department Lecturer Associate professor and Professor Jobs 2015 in Punjab through PPSC for Male Female are announced according to subject wise. These all are permanent posts so this is one lucky chance for all those that are eligible to apply online for these vacant. All selection is finalized on open merit in which quota is available for only disabled and minorities. This thing also gives equal opportunity too special one and minorities that always left behind due to natural problems. In this time of competition it's too much important to give them some special opportunity in order or boost them. These peoples set examples for all community that with hard work is only way to save future. These jobs are finalized under platform of Punjab Public Service Commission that is always trust on pure merit. Every job announce under this platform is finalize after follows a complete procedure. Only those candidates are called for interview that full fill all requirements before passing entry test and after holding to test. With all of this another importance of these jobs is that this time men (Male) and women (Female) get equal chance of doing job. Here few major eligibility criteria is given that must to full for lecturer professor associate professor jobs 2015 through PPSC in Punjab for male and female. All those that think that they are full fill these criteria they must go online and apply before given dead line.
Lecturer through PPSC Eligibility Criteria:
Scale:
These jobs are of BPS 17, so pay is also given according to scale.
Qualification:
Lecturer jobs are announced subject wise so Master Degree in respected Subject you want to apply is necessary with second division.
Age:
Male: General age requirement for this vacant is 21 to 28 Years while for government employs relaxation of 5 years is also given that makes it 33 Years.
Female: For female age limit is same but for females relaxation is quite more that is 8 Years makes general age 36 Years.
An important Note:
The entry test held for Lecturer is of objective type so do predation according to objective point of view.
If one wants to apply for more than one subject then its necessary that submit form individually for every subject job.
Advertisement: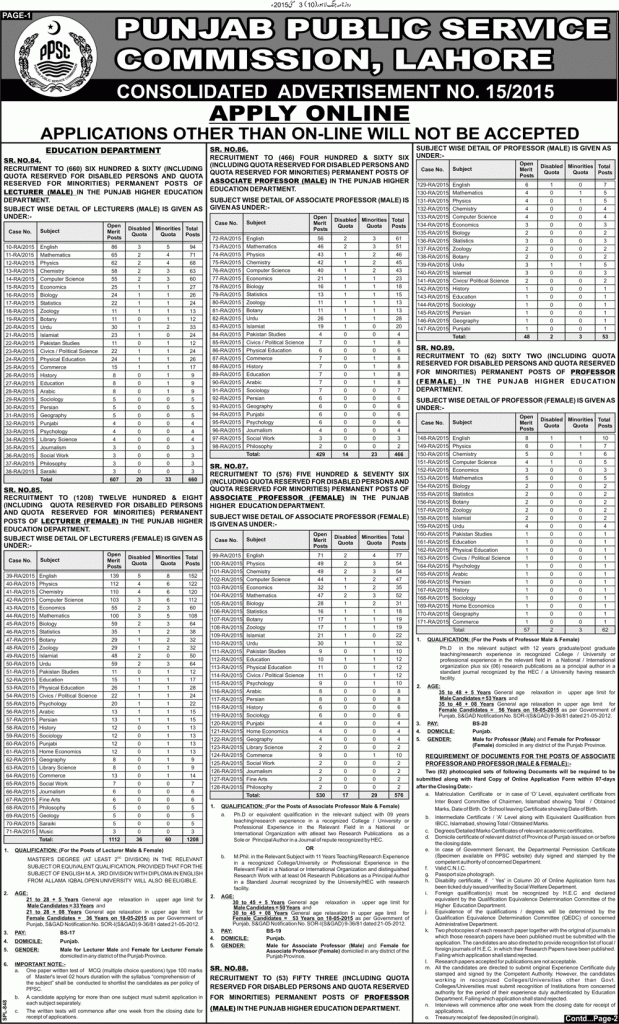 Associate professor through PPSC Eligibility Criteria:
Scale:
This time scale is going high to BPS 19, So pay is also set according to scale.
Qualification:
Qualification requirement for Associate professor job is divide in two parts. Candidates who complete PHD or MPHIL can apply for this job. But this time experience for PHD candidates are 9 Nine years and for MPHIL this become extent to 11 eleven Years.
Age:
Male: Age limit for male candidates is 35 to 45 year while 5 years relaxation is given to government employees that make it 50 years.
Female: For female this time age limit is different this is 30 to 45 and by adding relaxation to some 53 years.
Professor through PPSC Eligibility Criteria:
All criteria of professor is same like Associate professor but this time only educational requirement is PHD. While two more year are also add in age limit for all candidate of male and female. This time pay is also decides according to scale this BPS 20.
Number of posts for lecturer professor associate professor Jobs 2015 through PPSC in Punjab for male female is also handsome for every subject so one has greater opportunity in selection.