Ramadan 2015 is about to arrive with lots of blessings for all Muslims. Ramdan has got too much importance in Islam because it is one of the five pillars of Islam. In the month of Ramadan the Holy Quran was firstly sent down to the Prophet Mohammad (Sallallah Alyahi Wa'Sallam). If you want to know the Ramadan 2015 Calendar Start Date in Pakistan it is given here. In the month of Ramadan it is compulsory for every Muslim to fast. During the fast period, the one can not eat or drink between sunrise and sunset. It is the obligation of every Muslim except traveler, elderly, menstruating, pregnant and ill persons. If you are not able to enough to fast, you must help the poor and given them food. In this whole month Muslims perform extra prayers in addition to five daily prayers. During this month Muslims also give charity to the poor which is recommended as well. So now in the year of 2015 people have started preparing their selves for Ramadan, that is why they need to know about the Ramdan 2015 timings and detailed schedule which is given below. Ramdan Calender and fasting times will vary with location to location and country to country.
Ramadan 2015 Start Date in Pakistan: 19th June, 2015
Ramadan 2015 Calendar Start Date In Pakistan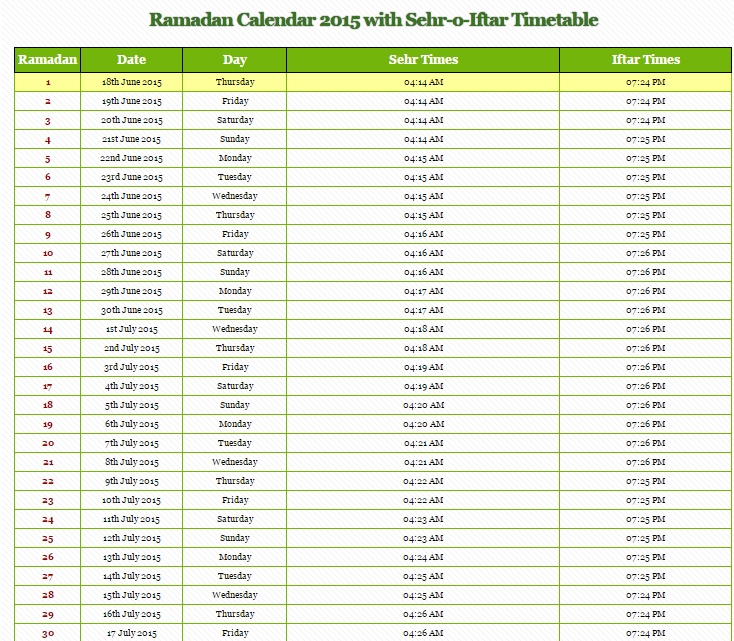 The above given schedule will tell you when does Ramdan is going to start in 2015 with exact date. Mostly before the ending of Shaban in each country the moon sighting Committee astronomically decide when will the Ramdan is going to get started in UK, USA, Saudi Arabia, India, Morocco, Egypt, Pakistan, India and other cities. So this year it has been estimated that Ramdan 2015 is going to begin in the evening of 18th June, 2015 on the day of Thursday. So get ready to receive a plenty of blessing in the month of June when the Ramadan is going to get started. More Ramadan updates are also available here soon.