Ufone is famous for targeting Youth of Pakistan. So Ufone offers many Ufone Sms Packages of different categorize Ufone Sms Packages,Daily,Monthly and Yearly Ufone Sms Bundles. Ufone is widely used Mobile Connection that is still stable with lowest price in terms of Sms only. Every new offers bring some new and updated for Youth and Ufone Uth package is one of them. All Packages having specific way of Subscription and unsubscribe as well. The Best thing of Ufone Sms Packages you don't need to follow a long way of "SUB" and "UNSUB". You just send a Sms on specific code that integrated with your package and after a few seconds you receives a confirmation SMS for your Ufone Sms Packages for which you apply.
Ufone SMS Packages can be confirmed by sending a blank sms on 606 as described in below given chart diagram. Every SMS Package is depends upon your package. You need to consume some money to convert on that package and after that you can apply easily on that Package without delay.The Details of Subscribing and other Price range of those Sms Packages is provided here. Choose that Package which suits you as per your demand.
Ufone Sms Packages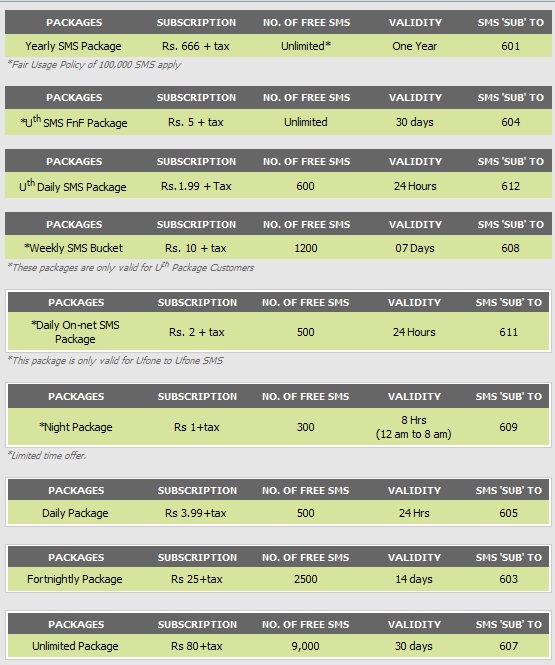 Note:
•     SMS Buckets do not include International SMS
•     SMS Buckets do not include Premium SMS
•     SMS to shortcode 600 and 606 will be charged at Rs. 0.5+Tax
•     All rates are exclusive of GST
•     Standard rates apply to all SMS sent to the respective ShortCode.
•     Validity of the Daily Package is 24 hours from the time of subscription.
•     To check remaining free SMS & expiry date you can send blank SMS to 606.
•     Customers can subscribe to one Daily Package in 24 hours.
•     The Daily SMS Package will now automatically re-subscribe after 24 hrs , i.e. you will not have to re-subscribe the bucket through 605 everyday
•     To unsubscribe the package at any time, simply write message "Unsub" and send to 506
•     If in case you have insufficient balance, you will automatically be unsubscribed from daily package
•     To unsubscribe weekly SMS Package SMS 'unsub' to 8066
•     Daily Uth Bucket 612 will not be available to customers on August 1, 2, 3, 13, 14 and 31 and September 1,2 and 3, 2011.
•     19.5% FED on usage and 10% withholding tax on recharge or bill applies.
How to Subscribe
To subscribe to the SMS package which suits your requirement simply follow the below mentioned procedure
Step 1:     Write message "Sub"
Step 2:     Send to "type the respective code of the required subscription plan"
Example: Send "sub" in an SMS to 603 for subscribing to Fortnightly Package.
Uth SMS Offer
Now Uth Package brings you so many SMS options kay soch hai aap ki! Choose from 6 different SMS buckets whichever suits your needs best:
Uth SMS FnF Package:
Rs. 5 for UNLIMITED SMS to 1 Ufone Number
SMS your favorite number to 604
Daily:
Rs. 1.99 for 600 SMS
SMS 'sub' to 612
Weekly:
Rs. 10 for 1200 SMS
SMS 'sub' to 608
Fortnightly:
Rs. 25 for 2500 SMS
SMS 'sub' to 603
Monthly:
Rs. 80 for 9000 SMS
SMS 'sub' to 607
Yearly:
Rs. 666 for 100000 SMS
SMS 'sub' to 601
The best rates are available only on the best network, so get on the Uth Package today to make the most of the best! There's all this and so much more on the Uth Package kay soch hai aap ki!
*Offnet SMS rates from December 5th 2010 would be 0.50 per SMS
Terms & Conditions:
Daily Uth package charges of Re. 1 (excluding tax) apply
To convert to Uth package, one time charges of Rs 15/-(excluding tax) apply
Terms & Conditions Apply
19.5% FED on usage and 10% withholding tax at recharge or bill applies.
Using SIMS without proper documentation is a crime – PTA