Sindh Excise and Taxation Department launched an online station for verification of the vehicles of Sindh, It includes Karachi. This Portal is Launched without any official announcement by the Excise and Taxation Department.
You just have to put your car registration number and the portal after processing will return you some sufficient information about your vehicle like Registration number, Registration date, Owner name, Model year and engine number.
By Clicking here you can avail the services of this portal easily
http://www.excise.gos.pk/portal/index.php?option=com_wrapper&view=wrapper&Itemid=84
Vehicle Verification System for Sindh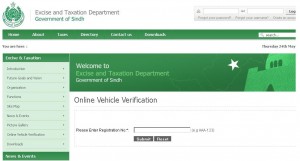 By just clicking on the above link you can see the same interface and now you ave to just put your car/vehicle registration number
Lets just take an example we take a car from any classified website in which we can easily see its registration number. we just write its number into this Online vehicle verification system of Excise and Taxation Department and number is AB-3243 then the information return by the software is here.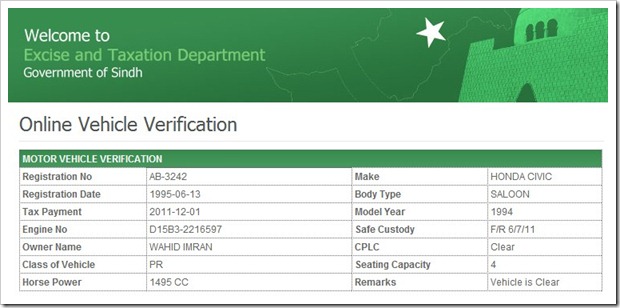 Some of the people still thinking that this information should not be published online so that every one can see but here see this portal just provide sufficient information no any private information is shown here.
This Verification system will help in ensuring that Buyer can buy and seller can sell the vehicle with proper engine and chassis number. This system can also help in identification of stolen and snatched veicles that could be used in any illegal activities.
Like Online Vehicle Verification System of sindh same portal was launched by the Punjab government earlier.