Zong has one more time arrived with the service of internet that has been entitled as Zong E-Care Registration and Manage Prepaid Numbers. This package has been all about the access of internet and getting closer with the internet globe. This offer has been just similar with the Telenor Web Self Service but Zong has filled its service with much exciting and thrilling features for the convenience of their patrons and users. Nevertheless, this offer has also been highlighted for the Zong postpaid customers but now this offer has arrived to drive crazy all the users of Zong prepaid customers. This offer will even help them in managing their prepaid numbers as well and take the keen pleasure from many other services as well.
Zong E-Care Registration And Manage Prepaid Numbers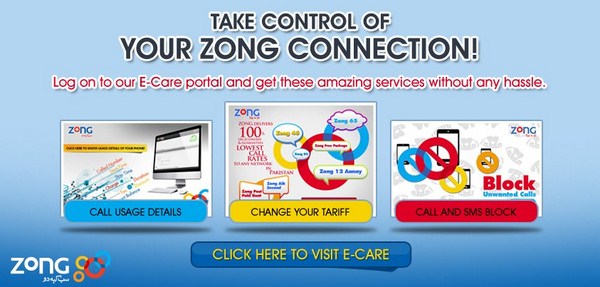 HOW TO AVAIL ZONG E-CARE SERVICE:
Firstly the activation person has to get enrich with the Zong number original CNIC number. When the user will sign in the registration process then the sign in of the user will be used as his Zong connection name.
Now once the person has get registered with this offer he or she can make use of their numbers in any way they want to do.
The billing procedure in monthly basis has been set for the postpaid customers whereas for the prepaid customers recharge account facility has been set up that will keep on providing then the details for everyday.
If you want to know about any charging history then you can make the choice of one month and click on the option as "Submit".
INTERESTING FEATURES ABOUT ZONG E-CARE OFFER:
Well this offer has been even specified with huge sum of the features as well that are quite exciting in usage as well. With the help of recharging account accessibility the user can get to know about the calling details and even the messages information as well. Zong has been the very first mobile network that is offering such facility to the users. But unfortunately the details will just be limited within 15 days of information. In addition, you can even get the calls and messages details of other friend or family mate by typing their Zong number and pin code number.
On the whole we are sure that all the Zong customers will be much excited for availing this offer. So just try it now and we are sure that this will certainly gives you much contended and comfort zone.