Bahria University is offering you admission for the year of 2015 in Lahore Campus for the Spring Season and all those candidates who want to get admission there can easily get all the details regarding to this admission through this page such as Bahria University Lahore admission 2015 last date and all the admission process so that you can easily get admission without any hurdle. As you will be well known from the Bahria university which is one of the most famous public research university located in the Islamabad The Capital of Pakistan respectively. This university has been noted to provide a level of education to the student being enrolled here in this Uni. Bahria University is not only having one campus but it is having multiple campuses in Lahore and Karachi as well. This university was being established in the year of 2000 and its status was gives as civilian. The programs offered in Bahria University are including undergraduate, post graduate and doctoral studies. This is one of the oldest and top institution for the higher learning around the Pakistan and it has also secured its ranking in among country's top 10 and most notable and valuable universities in the general category by the Higher Education Commission of Pakistan in the year of 2013. This university is also having the membership with the Association of Commonwealth Universities of the United Kingdom. Now for the year of 2015 this university is offering admission in two programs including Management Sciences and Computer Sciences whoever want to get the admission here can easily get by following the process given here. The details of the programs offered here and its disciplines is given under here:
Programs Offered here:
Management Sciences:
BBA Hons (4 years)
MBA (2 years, Weekend only)
Ms-Project Management (1.5 year/ weekend only)
Computer Sciences:
BS- Computer Sciences (4 years)
Bs- Information Technology (4 years)
Last Date to submit Application Form

: 13th December, 2014
Entry test Date:

14th December, 2014
Bahria University Lahore Campus Admission Spring 2015 Form Last Date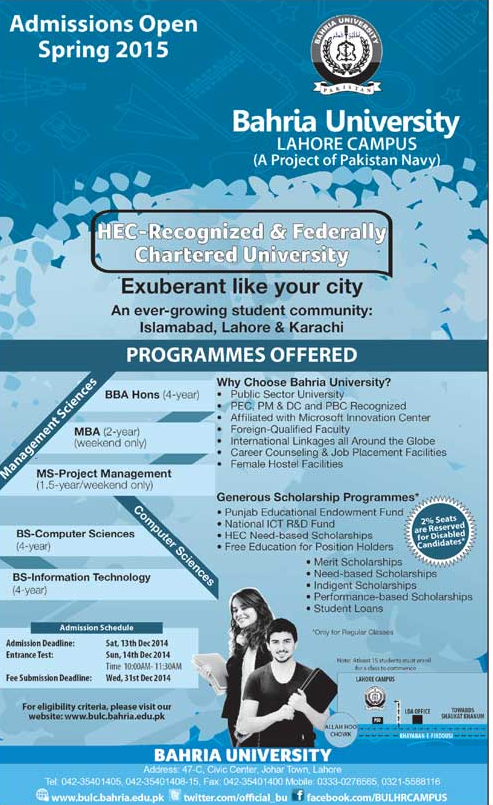 All those candidates who want to get admission here, have to get and application form and dully fill it and attach all the required documents mentioned here. All of you are informed that if you want to get admission you have to submit you form before the last date and last date for the submission of application form is 13th December 2014 while the entry test will also be taken whose date is 14th December 2014. So all the candidates have to appear in the entry test to get admission. Stay in touch with this page to get more details about this admission.