With every coming year, education awareness is going well in KPK, now students want to compete with each other to get admission to good institutes. Now for every program, all applicants for coming admission must want to check the Sarhad University Peshawar fee structure 2023. Furthermore, as per previous trend, SUIT Peshawar has publicized the whole merit list of engineering programs at the same time. Admission to these respected courses has come in the fall of 2023. These programs that offer by this institute are recognized by PEC which is one good reason for its standards.
Fee Structure of Sarhad University Peshawar in 2023:
Probably, this year officials decided to add some more amount in Sarhad University Peshawar fee structure 2023, so now it's need to pay some more amount to get admission. Surely this is not easy to meet all expenses of institute in the previous budget.
Engineering  Department of Sarhad University Fee Structure:
| | | |
| --- | --- | --- |
| Engineering Program Name | Per Semester Fee(Approx.) | Overall Degree Fee(4 Year) |
| Civil Engineering Fee | 175,900/ Rupees | 1420,000 Rupees |
| Sarhad University Electrical Engineering  Fee | 163,500/ Rupees | 1319,400 Rupees |
| Mechanical Engineering Fee | 161,300/ Rupees | 1321,000 Rupees |
Below the advertisement is the official one, which contains info on all other courses too. This time application submission dates are closing earlier than last year. So be careful of this thing.
SUIT Fee Structure 2023:
Other program or courses fee structure of SUIT in 2023 is mostly lower then the engineering degree. So, this is an good news for those who are focused on them. Their fee detail is:
SUIT Science Department Fee Structure:
| | | |
| --- | --- | --- |
| BS Programs Name | Per Semester Fee(Approx.) | Total Degree Fee(4 Year) |
| Computer Science or IT | 79,000 Rupees | 648,000 Rupees |
| Chemistry | 63,900 Rupees | 530,000 Rupees |
| Math | 26,900 Rupees | 226,500 Rupees |
Sarhad University Life Science Fee Structure:
| | | |
| --- | --- | --- |
| BS Program Name | Per Semester Fee | Total Degree Fee |
| Pharmacy that include Pharm D | 129,500 Rupees | 1319,000 Rupees(5 Year) |
| Biotechnology | 68,500 Rupees | 547,800 Rupees(4 Year) |
| Nursing | 107,900 Rupees | 857,500 Rupees(4 Year) |
Wait or call their number which is 091-5230931. Without any hesitation, one will discuss things with them and the all upper amounts are approximate(very close to original). One more important program that is currently offered by them is BBA and their fee is:
BBA per Semester Fee: 59,300 Rupees
Total 4 Years Fee: 489,600 Rupees
Current Admission: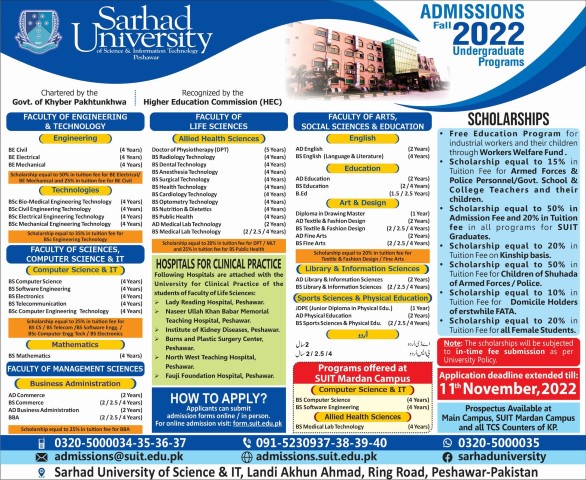 It's a uni that works for a long period of time. But they work hard and never compromise on their roles. They always prefer quality study that why now this name is lying among top universities of Pakistan in various groups. They take care of whole aspects of students from the educational system to other activities this institute has special arrangements.
Another important thing in this era is that the study is too much costly. It's not possible for a poor one that he arranges too much money for their child's education. SUIT also takes care of these students and announces scholarships for needy persons that fulfill the whole requirements.
While fees for other students are also affordable so it's not too much difficult to study at this educational institute. Now, Sarhad University Peshawar fee structure 2023 is for all those students that apply for any of their program. Hopefully, a good group of professionals will prepare under this platform, because they are trying that their graduates will compete in the market.