Initially, populations in the surrounding of Peshawar are aware from this Uni but they grow really well over the past few years. Probably, the development may also impact on Iqra National University Peshawar fee structure 2023. The targeted academic line of INU has covered engineering, business, CS, Art & Design and health sciences. Further, cost of every of this line is separate that is basically rely on the market demand. By all means, most of the engineering program of INU are properly authorized by the PEC and this is a legal university which is chartered by the government of KPK and HEC as well. That's why, graduates feel secure after taking admission over there.
Iqra National University Peshawar Fee Structure 2023:
Most expensive plans in the Iqra National University Peshawar fee structure 2023 are belong to engineering family and Civil came at first position and electrical came at second number. The third spot goes to DPT followed by the CS and others.
In the proceedings of every admission, all of the applicants are instructed to obtain the form which is accessible from university website and send to it INU Peshawar address along with pay order on behalf of INU. There is also restriction on the schedule, so no form will submit or consider after time limit.
Per Semester Fee in Iqra National University Peshawar for 2023:
In case, if you agree to pay their fee, does not means that the admission is settled there. From the form submission to the other terms, every role is rigidly applied on the applicant. Further, Iqra National University Peshawar per semester fee structure 2023 is align as per the courses.
| | | | |
| --- | --- | --- | --- |
| Course Name | First Semester Fee | Onward per Semester Fee | Total Degree fee |
| BS(Civil Engineering) | 154,035 Rupees | 141,500 Rupees | 1,162,853 Rupees |
| BS(Electrical Engineering) | 113,109 Rupees | 94,000 Rupees | 764,872 Rupees |
| BS(CS) | 76,675 Rupees | 74,000 Rupees | 566,544 Rupees |
| BBA | 65,689 | 73,200 | 558,360 |
| DPT | 84,105 | 80,600 | 822,360 |
For sure, INU offers the best teaching and research foundation not only for engineers but also business and other fields and makes the perfect human and develops the strong sense and vales related to education.
They tried to deliver higher education as per international level and worked on those facilities where students get all the benefits from modern age technology and makes them competent enough to face the challenges of the education.
All other degrees fees chart offered by this Uni: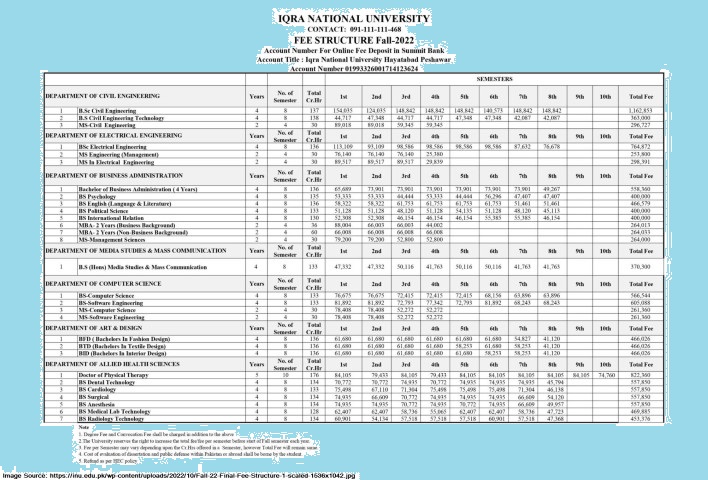 Moreover, they are having unique academic curriculum's which is the best for the students and for their bright future. Few of below average class students are having a bit issue with the Iqra National University Peshawar fee structure 2023. Expect so, they will work on some scholarship policy that will work for them.