In this article we will give the complete details about the National Defence University admission schedule 2013 for the students. This has been one of the well known and well established universities in Islamabad that has been serving the students with the premium and handpicked education facilities and environment for quite a longer time period. This university has been even linked with many other universities as well adding with the addition of Command and Staff College, Quetta, Naval War College, Lahore and Air War College, Karachi. The main of this university falls within the discipline and its rules. This university has been just known for its strict and limited rules and customs that turn out all the students ad disciplined and well behave in their life. This university has been handled by the Army Service Center of Pakistan.
National Defence University Admission Schedule 2013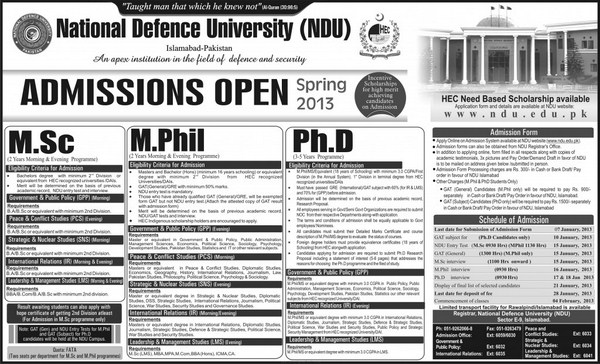 NATIONAL DEFENCE UNIVERSITY ADMISSION 2013:
Just like each year this year as well National Defence University has arrived with its admissions for the programs of M.Sc, M.Phil and PhD programs.
DETAILS FOR ADMISSION SCHEDULE:
The last date for the submission of application forums have been set as 7th January 2013.
For PhD students the GAT test will be carried out on 10th January 2013.
National Defence University entry test for MSC students will be commenced on 15th January 2013 at 9:30 am and MPHIL entry test will be taken on same date at 11:30 am.
All the students for MSC will have to pass through the interview that will be taken on 15th January 2013 at 11:00 am.
MPHIL student's interview will be undertaken on 16th January 2013 at 9:30 am.
All the PHD students can give away their interviews on 17th and 18th January 2013 at 9:30 am.
All the students will be short listed through merit list that will be displayed on 21st January 2013.
The last date for depositing the fees will be 28th January 2013.
The first session of the new candidates will be starting from 4th February 2013.
HOW TO APPLY FOR THE ADMISSION?
All the students can get the admission forums from the National Defence University registrar office.
In addition the students can even download the forums online through the website of NDU.
For MPHIL and PHD students the forum will be accessible at the cost of Rs. 300 as in bank draft.
All such students who are applying for MSC programs will have to pass the bachelor with maximum 2nd division.
All the entry test of NTS and GAT will be commenced within the NDU campus.
CONTACT DETAILS:
Address: Registrar, National Defence University (NDU)
Sector E-9, Islamabad
Phone: 051-9262066-8
Fax: 051-9263479
Admission Office Ext: 6059/6030