With the assistance and launching of this scheme, all of the well deserving students can peruse their further studies degree programs. Especially for the poor students, this Prime Minister fee reimbursement is quite a productive one. With the help of this PM scheme, they can complete their higher education. The second phase of this program has been all started up and upcoming will start in 2017. So complete your registration under the platform of HEC, if you fall and meet the eligibility criterion then you should also get its application form. Such kind of plan will sure be a need of youth; a large of student never enters in research work because they cannot afford expense. So must avail it before the last date will come.
Detail:
You should note that if any of the students wants to apply then the get done with the registration process before 15th Nov. Keep in mind that this is last chance of validation,
If this deadline will be passed then you will not be considered and marked as an eligible, and sure one need to wait for next phase.
One also has registration option through online, but be care full during filling of application form. A minor mistake will cause of your drop down.
Note: This option is not for all Pakistan, only selected number of district that are lack more behind are covering.
Advertisement: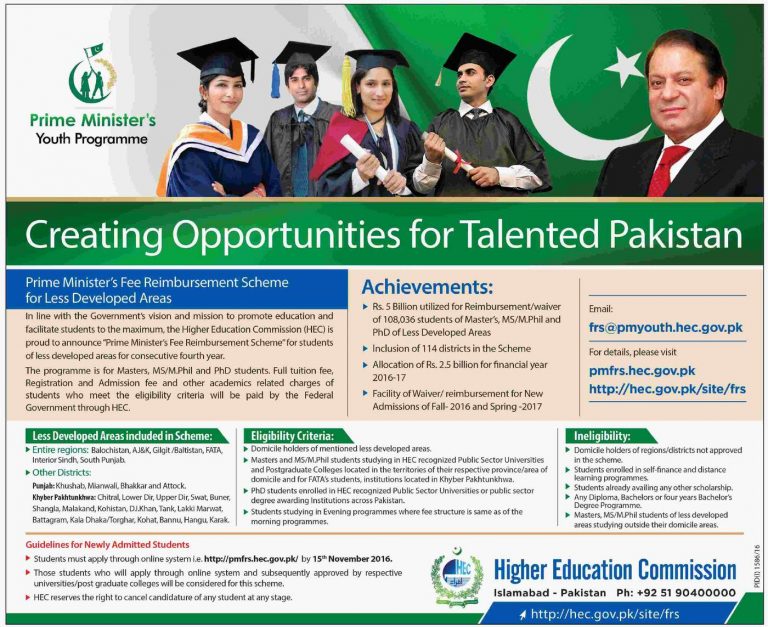 Which one are the Approved Degrees to be the Part?
If you have completed Master degree in Arts or Science then sure you are having the right to apply.
If anyone has done MPHIL degree program and looking for PHD then you are also qualified person for this one.
All those who finished the MBA, they become the part of this scheme.
If your status will be complete then you have to fill the appropriate and all of the information on registration. You should not enter any of the wrong email or any of your cell number. It might lead to the cancellation of your validation.
Application form and other info will collect from below:

You should have an updated Academic Record that should also be approved by the university focal person. You will be disapproved if you have been rejected by your institute. For the knowledge four year ago this program was started by HEC, and from last two year this is part of PM Fee Reimbursement Scheme. Now 2017 is fifth year of this one; hope so once again this will best for those who aim to doctor or scholar.