It's obvious that in the banking and commerce field two courses that include (BCom, BBA, and MBA) are a major. For their studies, Hailey College of Banking and Finance is one of the best options in Lahore city. Now for the cause of admission to PUHCBF, the formal Hailey College of Banking and Finance fee structure 2023 will conclude shortly. On the bases of classes, the fees are different. After fulfilling the admission procedure, it's necessary that student will submit their dues within a selected period of time. Although it's not an easy task in order to finalize the admission it's compulsory to announce it as soon as possible.
Yes, all those students that pass the test are too excited because after submitting of the fee they are to get admission to PUHCBF. Again deadline for the fee is really vital because if this will cross then another candidate may replace you.
Hailey College of Banking and Finance Fee Structure 2023:
An ideal way to get the authentic Hailey College of Banking and Finance fee structure 2023 is their contact number. Moreover, like other departments, they have not uploaded the fee structure on the Hailey College website.
| | |
| --- | --- |
| Number is | 042-99333359 – 60 |
So take the fee seriously as one of the vital sources of admission in both of these groups. Just keep things noted and follow the given schedule. Don't take it too much difficult or easy, just manage it simply.
Hailey College Fee Structure for BBA 2023:
After Bcom, this is one of the highest claimed courses of the department. But, the BBA fee structure of Hailey College in 2023 is thoroughly uploaded on the institute site. So, the only option left to get this data is to call or else go to campus.
| | |
| --- | --- |
| BBA 4 Years Program (Semesters) | Fee (Approx.) |
| 1st | 18,000 Rupees |
| 2nd | 14,600 |
| 3rd | 16,500 |
| 4th | 14,600 |
| 5th | 16,500 |
| 6th | 14,600 |
| 7th | 16,500 |
| 8th | 14,600 |
Hailey College MBA Fee Structure:
One master degree in business line is MBA and the Hailey is quite experienced college for this program. To create more admission capacity, they have both morning and evening admission whose expense are:
| | | |
| --- | --- | --- |
| Course | Morning Per Semester Fee | Evening Per Semester Fee |
| MBA | 30,000 Rupees | 45,000 Rupees |
| BBA(2 Year Program) | Same | Same |
Previous Admission Schedule: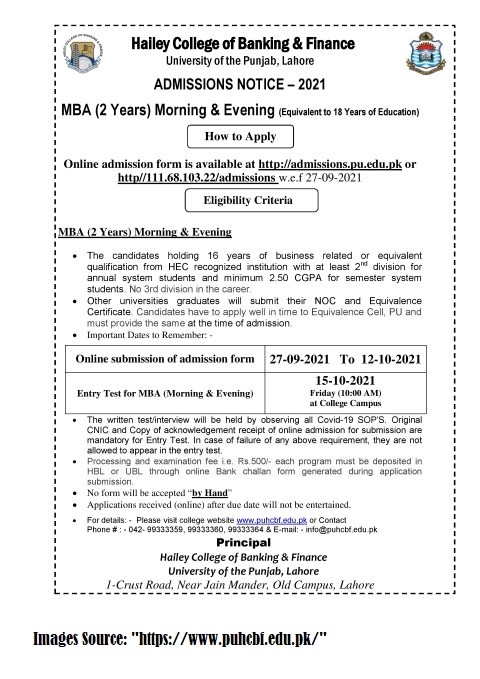 To distinguish the process for MBA and BBA will take on separate dates. Probably officials will try to avoid mixing things with each other. As mentioned earlier part of this piece of writing, results in declare with a gap of one week. But this time may be scheduled will different.
If one reviews the basic purpose behind forming this college, this is a special one for commerce studies. After its formation, it will fulfill the hopes and provide too many skilled people in the market. Second main thing is that in officials of this college take care of corruption so this is a basic point behind their success. Now admission is in process and the Hailey College of Banking and Finance fee structure 2023 for BBA, MBA and for this remember the due date that will confirm further things.