Shah Abdul Latif University Admission schedule 2013 has been all started as the university has itself arrived with the announcement of the admission criteria. Shah Abdul Latif University has been marked as one of the biggest and reputable universities in Sindh. This university was established in 1987. On 25th February 2011 Chief Minister of Sindh arrived with the statement for building another campus of this university in Shikarpur. This university has been offering masters and bachelor programs for the students and every year thousands of students pass out from this university by holding a degree in their hands. The way they serve their students with the accessibility of programs and courses have been much distinguished and even appear as advantageous for the students.
Shah Abdul Latif University Admission Schedule 2013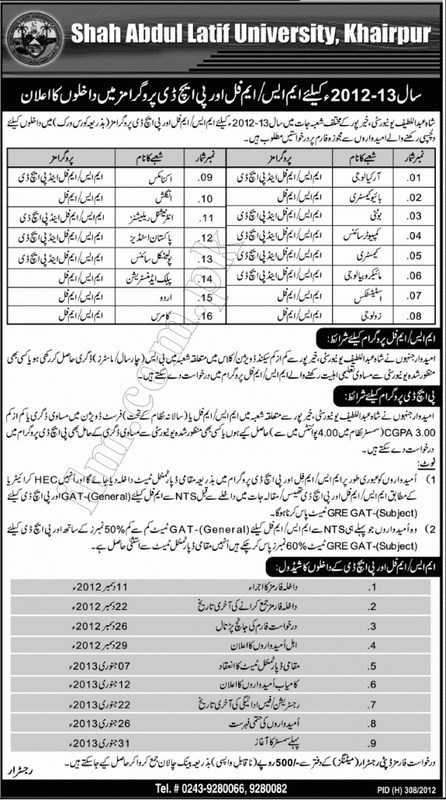 SHAH ABDUL LATIF UNIVERSITY ADMISSIONS 2013:
Shah Abdul Latif University has inward with the highlight of their admissions for the bachelor courses. This bachelor program has been rest for four years of time period. All the students who are in the want to apply for this university they can get the application forums at the cost of Rs. 500 and submit it in the main university registrar office along with the bank draft slip.
PROGRAMS OFFER IN ADMISSION:
Archaeology
Bio-Chemistry
Botany
Computer Science
Chemistry
Microbiology
Statistics
Zoology
Economics
English
 International Relations
 Pakistan Studies
Urdu
 Political Science
 Public Administration and Commerce
The admission forums will be available for the students from 11th December 2012.
Last date for the application forums will be 22nd December 2012.
Application forums will be started processing from 26th December 2012.
The announcement of the eligible selected students will be carried out on 29th December 2012.
Written test for the students will be taken on 7th January 2013.
Students will be short listed on 12th January 2013.
Final date for the submission of fees is 22nd January 2013.
First session classes will be starting from 31st January 2013.
SHAH ABDUL LATIF UNIVERSITY ADMISSION SCHEDULE:
UNIVERSITY CONTACT DETAILS:
Address: Shah Abdul Latif University, Khairpur Mir's, Sindh Pakistan
Email ID: [email protected]
Ph: No.: +92-243-9280051-4
 Fax No.: +92-243-9280060
So all the students who have the wish to get them enrolled into this university they should apply it now because application forums will soon be made accessible for all the students.