For Apply Apna Rozgar Scheme 2014 Eligibility Criteria Documents Required are compulsory to full fill for Ravi and Bolan vehicle. This Scheme has been started by the Government of the Punjab for those people whose belongs to only province Punjab. Through this Rozagar Scheme brings change in Punjab and every unemployed person becomes owner of their vehicle Ravi and Bolan. Apna Rozagar scheme provides the facility to become owner of Ravi and Bolan to pay easiest installments as per 40,000 less rate as compare to market values. Eligible candidates should be pay just only Rs. 10,000 of Bolan and just pay only Rs.9, 000 against Ravi Monthly installments and pay for only five years installments. The eligible candidates should be submitted their application form for Ravi Bolan before 28 November, 2014. Apna Rozagar scheme has been started by the cooperation of The Bank of Punjab and the application form will be avail be in all branches of BOP in all over Punjab.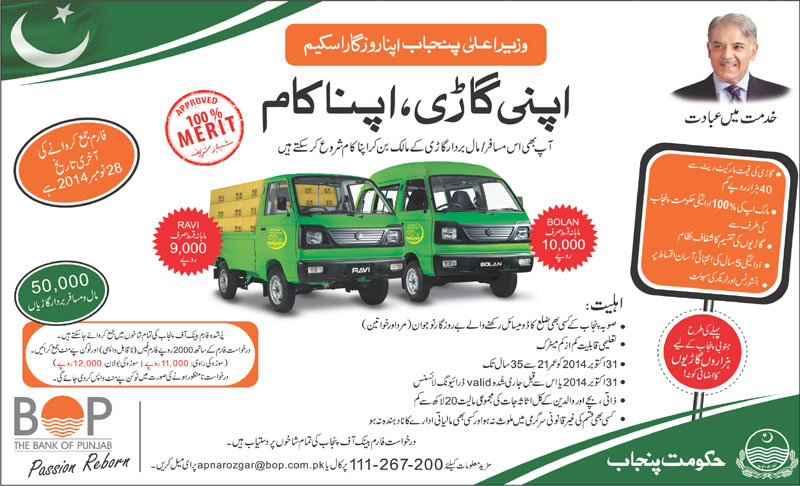 Eligibility Criteria and Documents Required:-
Candidates must be passed their Matric Degree is eligible for this scheme.
Must be having Domicile of province Punjab.
Apna Rozagar scheme for all unemployed youngsters' men and women.
Age having 21-35 on 31 October, 2014.
Must be valid driving license.
Total assists must be less than 20 laces.
Candidates don't involve any crime or other such kind of activities.
Apna Rozagar scheme stated for purpose to trying to finish unemployment in Punjab and Chief Minister of Punjab Mr. Shahbaz Shareef said this rozagar scheme is totally based of 100% merit and through this scheme every youngster will owner of their own business and also their vehicle. In this vehicle provides complete security system with the help of advanced tracking system and also provides facility of insurance with Ravi Bolan.