Among several issues of BOL TV channel, this was criticized because of a company named Axact but their management denied such all rumors that are connected with them. BOL network basically Pakistani, based incoming media channel and that's watched upcoming 24-hours Urdu news in all over the world. Its editor chief was Kamran Khan and other most popular media personalities like Waseem Badami and Iftikhar Ahmed. BOL TV channel has been started the new project and coming soon among the people of Pakistan like other electronic media because this advance age fill with advanced technology and electronic media is also become advance.
If we talk about BOL television channel it's started by the Axact media group that's having great importance in the world of IT and play important role to play entertainment, sports and other social media appearance. Basically BOL TV project started to bring positive change and also bring revolution in media industry of Pakistan.
There are so many sources said BOL playing different kind of role in electronic media and most popular anchors from different media channel will started switched to BOL network because it's only channel that's becomes increased their salaries initially.
BOL TV channel was in news during past when one media channel reported that Malik Riaz is the owner of this channel. Yes, Malik is a businessman and real estate investor and owner of a big society. He is contributed in help of human being in difficult situation in all over Pakistan.
Note: From past to now, Malik Riaz is not part of this channel. There are so many other companies are jealous to stared and earning this mega project so due to these reason they claimed such kinds of controversial things that's not in favor of electronic media and as well as for Pakistan.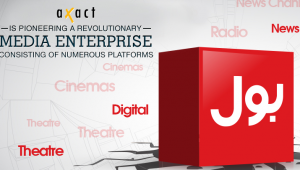 Major Partners:
Conclusion:
If one sees the final result of  this talk then BOL TV Channel is owned by Axact and Malik Riaz has apparently not any share in it. While involvement of any other named as owner or partner is seeing false because no one afford that in upcoming days such type of controversy come when this channel is going to its peak. So if any kind if partnership will involve BOL TV Channel then it will must highlighted before its launching.