With such sort of quality, Qingqi Rickshaw Price in Pakistan 2019 is rational for every type that includes Motorcycle Loader and Auto. Originally, Qingqi is a Chinese bike production group. But in Pakistan, the well-known product of this company is a motorcycle loader auto vehicle. From last many years, they have been manufactured these three-wheelers automobiles. Although, this type of rickshaws is not safe to travel. But here in our country, this is a much affordable traveling vehicle of the ordinary people. Note that Qingqi has now become the largest producer when it comes to 3-wheelers in Pakistan. Following this success, now they also manufacture cost-effective loader and Auto Rickshaw too.
Qingqi Rickshaw Price in Pakistan 2019:
If one reviews the Qingqi Rickshaw Price in Pakistan 2019, then rates of motorcycle loader or auto Rickshaw are appropriate.
Their three-wheelers or motorcycle rickshaws have these models so far in their product line and they are
"MP 100CC, NE 100CC and NE SPECIAL 100CC, NE SINDH MODEL 100CC as well as CT 100CC, OCT 100CC"
Qingqi Motorcycle Rickshaw Price in Pakistan:
Not sure about the rates if these automobiles.
Qingqi Auto Rickshaw Price in Pakistan:
Meanwhile in the Auto category, yet this company has launched only one model in the market.
THUNDER G6 3-SEATER 200CC
Price: About 165,000 Rupees
Qingqi Loader Rickshaw Price in Pakistan:
While in the category of Loader; two of their models are now available in the market.
This version comes in both of the styles, which are you can have it in the two-wheeler form or you can have it in the three-wheeler form. It is a convenient vehicle to be chosen for the purpose of daily commutes and carriage.
Price: About 240, 000 Rupees
It is true that QINGQI is a name of performance and quality. No doubt, MT 200 is the best addition in their vehicles list, because it's equipped with water coolant engine. Meanwhile, loading capacity has also enhanced in it. Meanwhile, as per capacity company also made its body solid.
Officially, the price of these automobile has not declared online. So call on below number to collect accurate information about rates.
Contact No:
Warranty Dealer no of Lahore: 0304-3652953
One will also collect info from this number too.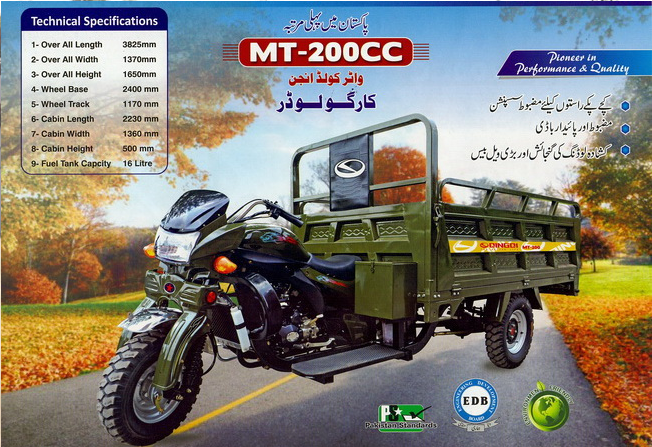 Surely, their sole objective to produce vehicles at the affordable price rates. They are the pioneer of this type of automobile in Pakistan. Apart from this, their recently launched bikes are environment-friendly and produce by keeping in mind the state of art technology. Presently, this company is completely determined to further strengthen Sino- Pak relations. And for this purpose, they are passionately contributing a lot towards the development aspect of the economy. Without any doubt, the rates of products like Qingqi Rickshaw price in Pakistan 2019 will must create own business opportunity for a lot of peoples.